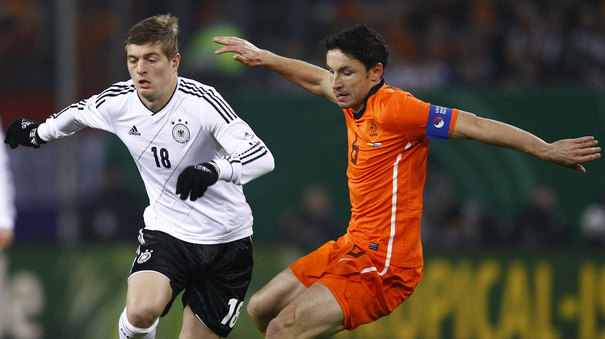 Sunday's Euro showdown welcomes Germany's final group stage appearance as they take on the might of Denmark in the hope of topping Group B and progressing to the quarter finals of the European Championships.
Despite a level of uncertainty that has beset the tournament so far, Joachim Low's side will be hopeful of overcoming this and fulfilling expectation with not only a positive result, but a strong performance that will look to solidify the impression that this side were one of the favourites for this tournament.
Low may be tempted to change personnel surrounding the first team as the side go in to their final game against the Danes through a necessity to alter tactics, with Denmark's style of football differing from that of Portugal or Holland to some extent.
With Olsen's side likely to continue their stern, defensive style of play, Low approaches this game with a unique opportunity to stretch some unused muscles and alter his own set up by including unused players in alternative tactics.
As far as the goalkeeper and defensive positions are concerned; little is expected to change among die Mannschaft's general set up. Neuer is in the midst of a fantastic tournament and the relatively inexperienced - yet in form - defence is likely to expect as much game time as possible.
Attacking options, on the other hand, look likely to alter with the quick counter attacking football, which did Germany so well against Holland and Portugal, expected to be replaced with slow build up play, based on short intricate passing around the edge of the Danish box.
In that manner, the inclusion of either Mario Gotze or Andre Schurrle in favour of the workhorse-like Thomas Muller and Lucas Podolski seems likely.
Gotze, the darling of Dortmund's offence, offers an array of skills going forward, particularly in the art of cutting inside and thriving in the middle of the pitch. Schurrle favours the wings with his exquisite pace and ball control overcoming most fullbacks that come up against the Leverkusen forward.
Similarly, Bayern Munich's Toni Kroos could propose an alternative to Germany's midfield Guardian, Sami Khedira. The Madrid central midfielder has had an excellent tournament as his pivot-like partnership with Bastian Schweinsteiger has been the heart of not only Germany's attack, but the first line in their stern defence.
The need for two defensive midfielders seems excessive against Denmark and the possibility to exchange him for a more attacking central midfielder, such as Kroos, would make sense.
The young midfielder has had an unveiling season for Bayern Munich with his attacking nous often proving the difference between his side and their opponents, when played in the right role.
Germany's embarrassing wealth in options is evident throughout their forward line as well, with the obvious change being a simple swap between the ever commendable Miroslav Klose and the in-form Mario Gomez.
The two forwards play similar roles for Germany, with little between them in terms of quality and their ability to score goals, yet both offer separate outlets with Klose offering more in terms of build up play – particularly with the wide forwards - and Gomez offering more in terms of a generic penalty box striker.
Alternatively Low could chose a separate system altogether, where he may call upon Dortmund striker to be, Marco Reus, who is able to play up front or just behind the striker in the form of a traditional trequarista. The young forward offers a staggering amount of intelligence and imagination in the final third, and thrives upon a defence that chose to stand off him.
As shown in his debut season with Gladbach this season, Reus is able to provide goals as well as he can score them. If presented with an opportunity to mingle with the Germany front line, few would resent the idea of him thriving amongst the other attacking players.
Whatever midfielder, forward or striker Low chooses for Germany, few would expect them to struggle and resist the urge to mark their impression on not only their claims to a spot in the national team, but the competition as a whole.
Whether such decisions are right, and whether they do enough to ensure progress for the side is yet to be seen, but the choice itself is certain to thrill, as the ultimate outcome shall come down to whether such changes will prove decisive enough.
You should follow Stefan Bienkowski on Twitter @SBienkowski.
Related articles
People who read this story also read