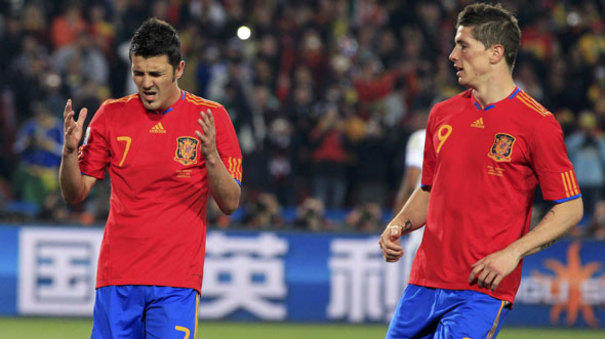 Spain and Italy provided the most fascinating tactical battle of Euro 2012 so far and though both sides may be satisfied with a point from the game, there are lessons to be learned.
Five things we learned from Spain 1-1 Italy
1. You can get too much of a good thing
Alonso, Busquets, Cazorla, Fabregas, Iniesta, Mata, Navas, Pedro, Xavi and Silva. For most countries picking four or even five of those players to form a midfield would be dreamland, but Spain fell slightly foul of their incredibly array of talented midfielders by choosing to go with six of them.
The deployment of Cesc Fabregas as "a false 9" didn't work as Vicente del Bosque had hoped, even though he did manage to bring his side level with his first goal in four months in one of the few moves Spain managed to work through the eye of the needle.
Navas' introduction brought extra width, pace and a much more direct threat, but he is likely to remain on the bench as an impact player, which brings us to point two.
2. Torres' inclusion is the conundrum
The Chelsea forward spurned two great chances to hand the World Champions all three points, but he also brought a much more penetrative threat in behind the Italian backline when he replaced Fabregas with 15 minutes to go.
It would seem absurd for del Bosque to go without a recognised striker against an Irish side that will defend much deeper in Spain's next game, but whether he goes with Torres or the more physical threats of Fernando Llorente or Alvaro Negredo waits to be seen.
Del Bosque has been tremendously loyal to the former Liverpool man (as his inclusion ahead of Llorente showed today), but it is getting increasingly hard to keep giving him chances as he spurns his opportunities when presented with clear sights of goal.
3. Italy were true to their new image
A new look Italy under Cesare Prandelli was promised and they showed admirable courage, particularly in the first half, in taking the game to the world champions.
Forced into a change of system by the loss of Domenico Criscito to the latest match-fixing scandal engulfing Italian football and injuries elsewhere, Prandelli switched from his usual 4-3-1-2 to a 3-5-2.
Their two-striker system allowed the Italians to press extremely effectively as they pressured Gerard Pique and Sergio Ramos, blocking the easy passing lines into the midfield three of Busquets, Alonso and Xavi. That forced Spain's back two into lobbing balls forward that were just as easily cut off by Italy's physically imposing back three.
Indeed, the four-time world champions could count themselves extremely unlucky not to be ahead at the break and passed up a wonderful opportunity just after it when Mario Balotelli appeared to think he had enough time to start a bathroom firework party as he sauntered through one-on-one with Iker Casillas only to be finally dispossessed by Ramos.
Antonio Di Natale did eventually give them the lead and, although they couldn't hold on to all three points, the lesson is clear to Spain's future opponents: don't just sit back and park the bus because there is another and highly effective way to play.
4. Di Natale and Pirlo show you can't buy experience
The Udinese striker had only been on the pitch five minutes after replacing Balotelli and he showed the young pretender exactly how to finish with a beautiful curled effort into Casillas' far corner.
It was an even sweeter moment for the 34-year-old after being bizarrely overlooked by Prandelli at times in qualification and missing a crucial penalty in the shootout that saw Spain triumph over Italy for the first time ever in a competitive international in the Euros four years ago.
However, the goal really owed more to Andrea Pirlo who continued the form he has shown this season with Juventus as he glided past Xavi before threading a perfectly timed through ball to find Di Natale's run.
5. The pitch in Gdansk could continue to cause Spain problems
It is fair to say the Spanish weren't too impressed with the stodgy playing surface at PGE Arena in Gdansk.
"To see the pitch in these circumstances is a disaster," said Iniesta. "It was so dry and this made circulation of the ball difficult."
"The fact the pitch wasn't watered prejudiced the dynamic and fluidity of our play," Xavi added. Fabregas went even further, "We deserve a lot more. It is lamentable we have to play on a pitch like this."
With the other two games in the group against Ireland and Croatia also to come in the northern Polish city, it is a factor they will have to overcome quickly to make it into the last eight.
You can follow Kieran Canning on Twitter
Related articles
People who read this story also read