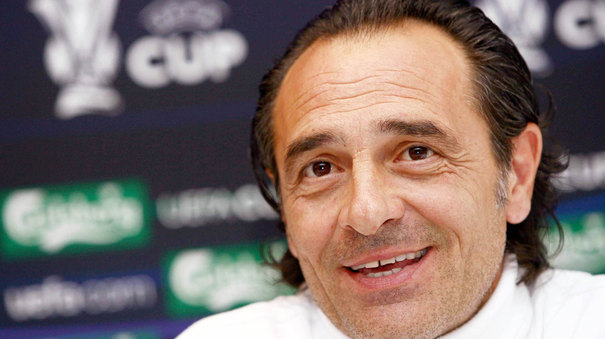 Cesare Prandelli thinks his Italy side dip their performance levels for the last half hour of games and is prescribing plenty of rest to prepare for their decisive Group C match.
The Azzurri boss has seen 1-0 leads slip in both matches against Spain and Croatia so far and said he is annoyed that his team cannot kill off opponents.
Prandelli told UEFA.com: "There has been a drop in our game from 60 minutes for the last two matches and we need to weigh up our next match and see how we manage our energy levels.
"For the first 60 minutes we were very well organised. We did not leave much space between our forwards and defenders but when the game gets stretched and there is more distance between the strikers and the defenders, then we start to struggle.
"We have four days now, all we have to do is rest up. Then we need to stretch the team more so we don't have that dip."
The two 1-1 draws leave Italy requiring victory over the Republic of Ireland in the final game, and relying on Spain to defeat Croatia to guarantee a slot in the final eight of the tournament.
Prandelli added that he wants a more clinical edge to his team when they face Ireland on Tuesday.
The former Fiorentina manager said: "We are mathematically still in it, but we have missed an opportunity here. When you're on top in a game and have territorial supremacy, you need to kill the game off, because if you don't, all that it takes is a cross or a deflection and it can ruin all you have done.
"You need to have more determination and be a bit more clinical when you get a sight of goal. We were better than [Croatia] in footballing terms, so if you don't kill it off, of course you will have regrets."
Related articles
People who read this story also read