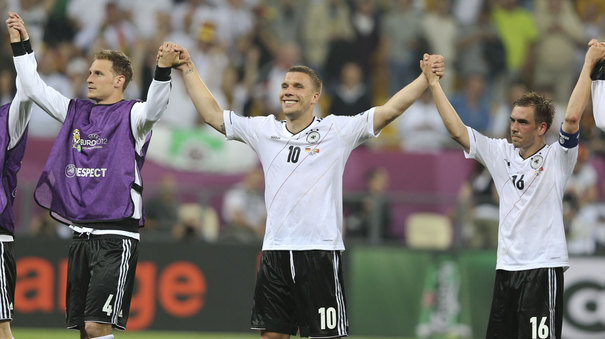 We've reached the semi-final stages of the competition when the tension rises up another notch.
Defending champions Spain take on neighbours Portugal in the first semi-final with the build-up focused on whether Vicente Del Bosque's men are boring.
Germany are the hip kids on the block and they face Italy on Thursday. Will Cesare Prandelli's team spring a surprise or simply create a new penalty craze to follow 'the Baggio' or 'the Pirlo'?
From a stylish nation to a stylish man, we present to you one Joachim Loew. Will he stick with the team that beat Greece or will he ring the changes once more?
A man of an impeccable taste in fashion, the coach of the nationalmannschaft has revealed he's a big fan of Amy Macdonald's music.
With such shrewd judgement we can only assume what he makes of Lukas Podolski's attempt at Europop.
TOP STORIES
Ronaldo eyes his chance to once again be crowned the World's Greatest
The semi-final between Portugal and Spain offers Cristiano Ronaldo the opportunity for personal glory, writes Kieran Canning.
Andrés Iniesta lays blame for Spain's 'boring' matches at feet of opponents
The Barcelona midfielder has said that criticism of Spain's playing style at Euro 2012 overlooks the fact that opponents are "shutting up shop" leading to less exciting matches (Daily Telegraph).
Spain won't change despite 'boring' tag, says Xabi Alonso
The former Liverpool man says they will 'play with the same idea whoever the opponent' (The Guardian).
Before Portugal take on neighbours Spain in the last four on Wednesday, UEFA.com caught up with veterans of the Selecção's previous three semi-final appearances.
Gazzetta sorry for cartoon of Mario Balotelli as King Kong
Italian newspaper apologises after readers complain (The Guardian)
Germany boss Joachim Loew says listening to Amy Macdonald helps him relax between games
The Scottish singer has been the secret success behind the team's surge to the semi-finals (Daily Record)
MUST WATCH
Germany striker Lukas Podolski found himself out of the team for the quarter-final. Perhaps Mr Loew's ears were offended by this effort.
Historical Video Evidence: Italy's 7-game unbeaten tournament run over Germany
101greatgoals.com review the Azzurri's grip over the Germans
People who read this story also read