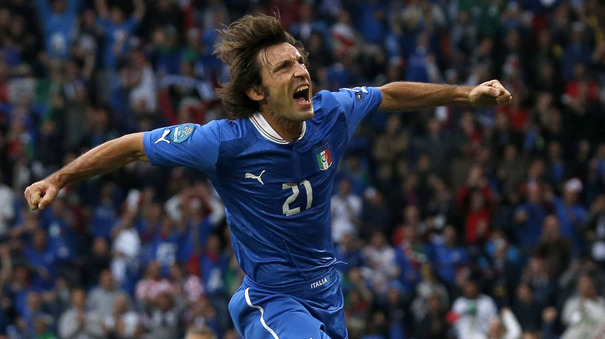 "At the end of the game when I went to my mother, that was the best moment. I told her these goals were for her," Mario Balotelli said after his two goals helped Italy defeat Germany 2-1 in the Euro 2012 semi-final on Thursday.
A boy became a man as he led the Azzurri from the front. His movement throughout caused both Mats Hummels and Holger Badstuber plenty of issues during his 70 minutes on the pitch.
Every Italian newspaper, sports or otherwise, ran with a picture of the 21-year-old in what is certain to become an iconic pose. Shirt off and showing us bodywork a Ferrari would be proud of, and that his teammates were jealous of.
"They didn't get angry because I was booked for taking my shirt off, but they saw my physique and got jealous," he jested.
Balotelli brought relief to Azzurri fans who have felt right throughout Euro 2012 that the team struggle to score goals, with the strikers having seemingly left their shooting boots at home. Luckily for the previously misfiring forwards, their bacon was proverbially saved by an imperious midfield, which once more served up a delicious display of grit, determination and guile.
Led by the imperious Andrea Pirlo, who continued on from his magnificent showing against England, Italy dominated the German midfield. Bastian Schweinsteiger, normally lauded for his ability to control a game, was rendered obsolete by Pirlo, Daniele De Rossi, Claudio Marchisio and Riccardo Montolivo. The latter provided an assist in arguably his best performance in an Azzurri shirt.
With this, much praise has been showered on Pirlo again, but I would herald the performance of De Rossi. He came into the game having an issue with his sciatic nerve, yet played like the Roman gladiator he is.
It was a masterclass in closing down, harassing and interrupting Die Mannschaft at every opportunity, with the help of an ever important Marchisio, another hero in Warsaw.
As you would expect this liveliness took its toll on Italy and was brought to light when Marchisio was asked why he never squared the ball to Antonio Di Natale in the second half, which would have given Italy an unassailable three-goal lead. He replied," I could barely see any more I was so tired and so had to try a shot."
Next up are Spain, which is cause for concern given the energy Italy have used over the last week. Extra-time against England and a vibrant display on Thursday may have used up any reserves left in the Azzurri tank.
But belief is growing, the celebrations in and around the peninsula convey what this run means to the Italian people, and the general feeling is they have beaten the strongest side in the competition, so why can't they emerge victorious against the Spanish?
Nevertheless, aware of the mood back home, Pirlo has moved to quell any mass hysteria just yet, stating, "We haven't done anything yet, as it'd be like going to Rome and not seeing the Pope. We are in the final, but we need the victory."
National team captain Gianluigi Buffon added, "I will smile when we've won and we haven't done that yet."
David Schiavone is the editor of Forza Italian Football. You can follow him on Twitter.
Related articles
People who read this story also read