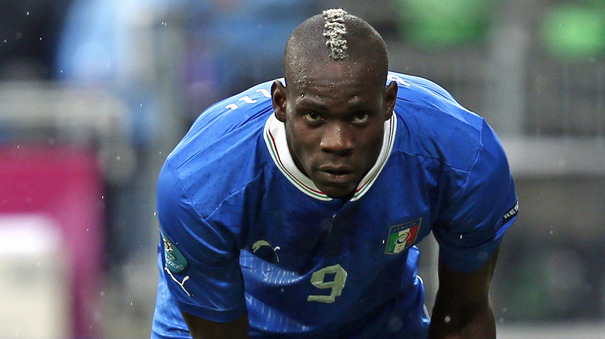 Mario Balotelli is the ultimate footballing conundrum; the king of cool when stepping up to take a penalty, or finishing off a fine team move for his club with a trademark placed finish.
And yet 'Super Mario', who has been sent off six times in the last three seasons, is the player on everyone's minds when discussing football's 'bad boys'.
For much of the tournament, Balotelli had looked like the latter of his two selves. The Mr. Hyde of world football, threatening to have another famous strop when things didn't go his way against Spain in the group stages and scoring just the one goal (albeit an impressive overhead kick) in four appearances.
That was until the semi-final. Against the Germans, evens to win the tournament before the game, Balotelli finally showed supporters of the Azzurri what he is really capable of. Having scored only one goal for his country prior to the tournament in eight appearances, it was about time Balotelli stepped up to the plate. And how.
Despite only playing 70 minutes, Balotelli's brace and surprisingly hard-working performance was the highlight of a thoroughly entertaining match. While evidently true that Balotelli is best used when left in a free role up front, his mature performance in the semi-final showed that he is capable of putting the team first and abiding by (fairly simple) tactical instructions. Of particular note was his participation in the team's pressing game, turning over possession three times and also committing three fouls (which at least helped to prevent counter-attacks).
In fact, Balotelli's movement alone contributed to his whole team's performance. With the Germans renowned for their ability to win the ball back high up the pitch, the runs behind the defence from Balotelli in particular gave the likes of Montolivo and Pirlo a clear outlet. This meant Italy were happy to concede the majority of possession, so long as there was always an option up the field when they did win the ball back.
Interestingly, Balotelli's role so far in the tournament – certainly in his last two games – has been different to the role he usually has at Manchester City. While left relatively free in both formations, In the Italy side, Balotelli has had a strike-partner throughout.
Antonio Cassano's role has allowed Balotelli to flourish without the responsibility of being involved in the build-up. His job has simply been to hold up the ball and feed it to players around him, meaning when he pushes up to receive the ball, he creates space in behind him for Balotelli to run into from a deeper starting position. This is exactly what happened for Italy's second goal against Germany, when Balotelli gambled on the defence making a mistake before finishing expertly.
At Manchester City, while also successful, Balotelli has often been used in a wide berth or as a lone striker. This has led to him scoring more goals from crosses and passes closer to the box, although this also may be due to many Premier League sides defending deeper than the Germans did on Thursday.
However, there remains an argument that Balotelli has taken the nickname 'Super Mario' a little too literally and that his selfishness on the ball needs to be addressed. Balotelli claimed only one assist in the Premier League last season, while averaging 0.8 key passes per game in the Euros – less than every attacking player in the Italy squad to have started more than one game.
On the other hand, it could be argued that this tournament has shown that 'il talento' has proved his best role to be as a pure poacher striker. Cesare Prandelli will argue that Balotelli is in the squad to score goals, not to create them – after all, Italy's current squad is full of superb playmakers. However, the Italy coach also admits that the frontman must 'mature' and learn to 'accept criticism and the bench' before he can really reach the top of his game.
Regardless of his performance in this game, it remains to be seen whether Balotelli can continue to lead his team to success, or whether they must carry him in what will certainly be a tough game against the Spanish.
Likewise, Vicente Del Bosque will need a plan to stop Balotelli if he carries his form into what promises to be a fascinating final.
Joss Bennett writes for Arsenal Report. You can follow him on Twitter.
Related articles
People who read this story also read