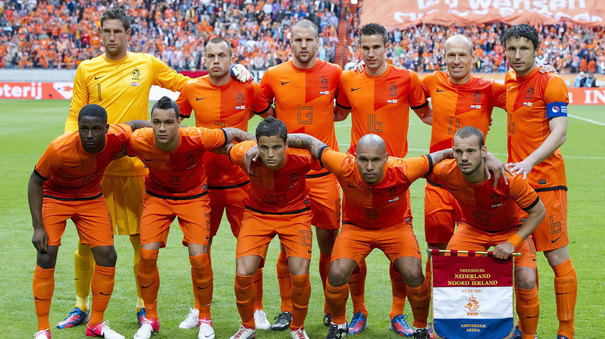 Memories of Euro '88 return at each tournament for which the Dutch qualify.
The Van Basten hat-trick against England. Kieft's lucky header that floored the Irish. The semi-final battle which put our trauma over the lost World Cup final in '74 to sleep. Dancing in the streets after the 2-0 win over the Soviet Union.
At the other side of the memorial spectrum of '88 is the opening game. Despite seemingly having 95 per cent of possession the Dutch team did not score, while the Soviets did. Therefore we suffered a 0-1 defeat. The squad of those days had stumbled over almost every major hurdle they met, so the fans were resigned to their fate. The players were not; they picked up the fight and triumphed.
In 2012, the new generation has equal potential as the '88 crop. They have even shown it at the last two tournaments and between October 2008 and September 2011 the team never lost in normal time. Recent friendly defeats against Germany and Bulgaria seemed a blip, although it brought some caution into coach Bert van Marwijk's tactics.
Yesterday in Kharkiv, the first 20 minutes were a continuation of the glory days of the World Cup. Opponents pinned down in their own half, while the Orange attack tiki-taka'd as if there was no tomorrow. Chances came, but they also went. In a fluke Danish break, Ajax drop-out Michael Krohn-Dehli left the script and put his team in front.
Surely, the favorites would set the score straight? Minutes went by, the tea break came, the second-half whistle, more chances, more saves by Stephan Andersen, the unknown Danish goalkeeper, who did not even make this year's Panini sticker album.
Suddenly time was running out, as was the Orange energy. Wesley Sneijder's incisive pass should earn a place in the modern art collection of New York's Guggenheim, but was wasted on sub Klaas-Jan Huntelaar. Robin Van Persie seemed to buckle under the pressure, while Arjen Robben's choices were suboptimal.
So here we are again. Favourites, top players, a luxury array of strikers, but nothing to show after 90 minutes. As in 1988, the remaining 180 minutes during the group games will be about survival.
To win is the only option left.
You can follow Ernst Bouwes on Twitter. Take the time to visit his excellent site on Dutch football as well.
Related articles
People who read this story also read