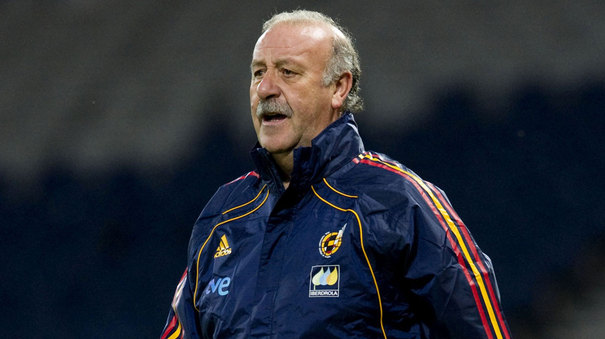 It happened so suddenly. One minute Spain were European Championship and World Cup idols, with the ability to enthral viewers and turn whatever they touched into gold.
By the time they kicked off their Euro 2012 campaign however, football fans were enduring a glass shattering moment that would flip their view of La Roja on its head. It turns out that the almighty Spain... are boring.
So what has changed since the excitement and flair of the past? Certainly not the Spaniard's fundamental playing mentality anyway.
Vicente Del Bosque may not be a strict disciple of the system, but his side stick rigidly to the tiki-taka ideals that have seen the country transformed from footballing nearly men to world beaters in the past eight years.
The main difference lies in attacking prowess, and it seems that with Fernando Torres still slouching in the shadow of his former self, the absence of out-and-out striker David Villa has been all too evident.
Villa was the top scorer at both Euro 2008 and the South African World Cup. It is clear to see that the Barcelona striker was key in initiating instinctive and pacey play amongst his teammates.
In the absence of Villa, Cesc Fabregas has been Del Bosque's go-to man, yet the former Arsenal favourite is obviously more of an attacking midfielder than a striker. With Torres continually failing to relight the fire that burned so brightly in his early career, the Spain manager may feel he has few other options in attack.
Usually deployed at the "forefront" of Del Bosque's 4-6-0 formation, which Craig Levein likely hopes was inspired by his infamous venture against the Czechs, Fabregas is always more likely to look for a pass than take on an ambitious shot which might have been netted by a natural number nine.
Spain's current style appears to be limited to two main options in attack; pass the ball brilliantly into the net, or have Xabi Alonso pan the ball ambitiously at goal from some ridiculous distance.
Whist the former has provided various commendable goals in the tournament so far, there has not been an abundance of blatant chances falling at the feet of the world champions. It is from this fact that the theory of Spanish boredom has arisen. There is too much passing and not enough of anything else.
When Italy met Spain in the group stage, the Spaniards struggled to break a fierce defence before eventually equalising through Fabregas. Del Bosque's men will find it similarly hard to break down Italy this time around, but while they may not be the most exciting team in the world, that does not mean they are not the best.
Balotelli has proved with thumping authority that the Italians can cause the best of teams problems and provide an electrifying match while they are at it. Spain may not be able to do the latter at the moment, but don't expect Del Bosque's men to change their style to accommodate the critics.
Right now Spain are a winning side, and as we all know, football is a results business. Should Spain beat Italy on July 1, they will be the first ever nation to win three major championships in a row.
It isn't easy to argue with those kinds of results.
You can follow Stuart Kenny on Twitter.
Related articles
People who read this story also read