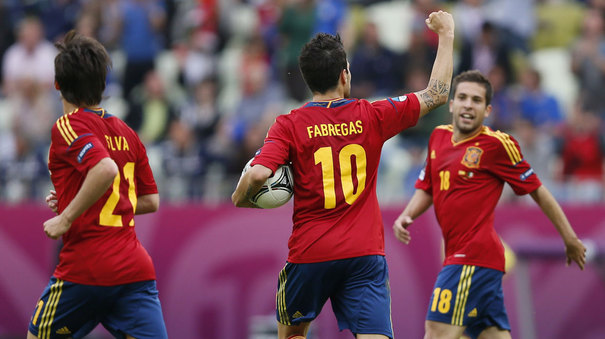 If there's one thing that pundits at the Euro 2012 tournament have agreed on, it is that 4-6-0 doesn't work as a formation.
Remember that cavalier, free-flowing Spain of 2010? Or the 2008 team which terrorised the entire continent? They had strikers, didn't they?
They took the game to their opponents by starving them of possession and finally letting loose a goal-rabid forward to finish things off. Oh for those halcyon days!
In this tournament we've seen Spain deploy a 4-6-0 formation which, depending on your commentator or pundit of choice, was "invented" by Vicente del Bosque or, perhaps even more ridiculously, copied from Craig Levein.
The general perception of such a setup amongst almost all footballing panellists is that it doesn't work. It has made Spain boring, and they're much better with a striker on the field. They've been all cut and no thrust. All belt and no trousers.
We'll leave aside the fact that I've long thought that Spain were boring for the moment. Tiki-taka is obviously incredibly difficult to do, but just because something's tricky doesn't make it good. Mariah Carey can sing a billion notes, The Ramones could play three. Draw your own conclusions.
What has irked throughout the tournament is that Spain's functionality over fun has been attributed solely to their "striker-less" system. It's been said that it is impossible for humans to comprehend nothing, and that may very well explain why pundits get so wide-eyed when they see a "0" in a formation.
Personally I'd like to introduce fractions into the strategical equation, to show the different jobs that an individual player fulfils in a certain role, but let's learn to add before we start on quadratics.
You see, the 4-6-0 isn't a useless, defensive system. It isn't the reason for Spain's reduction into self-parody when it comes to possession and it isn't an obviously negative system. Most of all, it isn't a formation that kills excitement in the way it has been so obviously mis-sold.
For starters we need to actually define what constitutes entertainment in football. There are all sorts of things that a single manager or player or system cannot affect when it comes to entertaining: end-to-end games, great individual duals, high-scoring matches, etc.
However, we can assume that there are certain factors which a team/manager/system can allow which are universally seen as "attractive": shorter passing, movement, pace, dribbling and tempo of attacks.
Why would these factors be any less prevalent in a team which plays a striker-less system than one which deploys an old-fashioned five-man frontline? Spain, while far from exciting (in my humble opinion), have hardly fielded teams of knee-less cloggers, incapable of technical brilliance.
The packed midfield has become a necessity in the modern game, and rather than being a system designed to choke that area, it can be (an important distinction) used to help turn possession and space into opportunities.
Part of the problem in Scotland comes down to that infamous match between our own nation and the Czech Republic, way back in 2010. Scotland started their Euro 2012 qualifiers cautiously, and Craig Levein went to Prague and deployed a 4-6-0 formation. Needless to say, we were guileless and fortunate to only lose 1-0.
Prepare yourselves for a controversial statement, but the reason Scotland lost that match was not because of the formation. It wasn't even that the 4-6-0 invited a weak Czech side onto us, or that we didn't have a way of holding possession, it was simply because the players – for one reason or another – didn't perform to the standard they needed to which would make the striker-less system work.
This doesn't absolve Craig Levein from blame; far from it. It just means that particular formation could have been devastatingly effective had there been different players, different directions or alternative instructions given.
History has written off this performance as one of the most white-flag waving feats of cowardice the country has ever seen. Ask your friends who played in that match and they'll no doubt name five or six defenders, three holding players and no element of width. Surprise them by saying that both Jamie Mackie and Steven Naismith started that game.
It's so obvious that it is almost a truism, but formations should not dictate the way a player performs. The way a player performs should dictate formations. Scotland didn't lose because they played a striker-less system, they lost because the players deployed were neither suited to that system nor capable of effectively deploying it.
The 4-6-0 system relies entirely on having your foremost three midfielders capable of interchanging with each other and creating space for the other. Technically, this is very difficult to do, and we're not there yet.
We find it very difficult to get our heads around, but formations are not solid, immovable things. Teams are not deployed like table-football players, incapable of all but the most cursory of movement from their designated role. Good formations allow for freedom of movement.
I'd guess that there will be plenty of naysayers at this point, who still cling to the notion that 4-6-0 is an outright defensive formation. To help overcome this notion it's perhaps best to look at who the pioneers in this formation were.
Rob Smyth suggested that Anghel Iordanescu's Romania first utilised the 4-6-0 during the 1994 World Cup, when they beat Argentina 3-2. Luciano Spalletti used it at Roma, by necessity as much as invention. However, the real innovation came, as so often, with Sir Alex Ferguson at Manchester United.
To get the best out of his front trio of Rooney, Ronaldo and Carlos Tevez, Ferguson opted not to play with a single striker, instead allowing his front trio to rotate during games and create more space. If the 4-6-0 is purely an unattractive, defensive formation, nobody told Ferguson. In 2007/08 Manchester United won the Premiership and Champions League, with Cristiano Ronaldo scoring 42 times.
If further proof was needed then look no further than bastions of all that is great and good, Barcelona. While David Villa is obviously their main "striker", he missed the end of last season through injury. Barca didn't replace him with another striker, they reverted to… what's this… a strikerless system, with Messi, Sanchez and Pedro operating from either the wings or a withdrawn forward role.
Widen the net slightly, and it might even be that the traditional number nine is a dying breed at international level. Have a quick think about who the best out-and-out striker is in the world at the moment. Messi, Ronaldo and Van Persie get a lot of goals, but aren't exactly traditional strikers.
The reason for the apparent death of the out-and-out striker is exemplified by Germany at this tournament in particular. Mario Gomez is arguable the single finest penalty-box striker in the world. He has one trick, and it is the particularly useful party piece of being able to score goals. At the very top level, this isn't enough. Miroslav Klose continues to offer a more dynamic and all-round effective point to the German attack,
Not only does the modern forward need to be able to convert chances when they present themselves, but they must be able to make opportunities themselves, bring team-mates into the game, hold up the ball and be far more than just the end of the production line. After all, clockwork isn't just about cogs, it is about the space between them.
These rules don't just apply to the unfairly panned 4-6-0 formation, they apply to every setup. It isn't the way in which a team lines up that determines their philosophy, it is the players who make up those numbers. Formations aren't about signalling your intent in a particular match; they are a way of utilising the specialist skills that your players have for the greatest dividend.
I found Spain boring in 2008 and 2010, but was far more reticent about making that point then than I am now. I couldn't watch the, admittedly exceptional, feats of monotony because I was raised on a game played at pace, with width and, yes, even with a bit of scrappiness about it.
The current Spain team don't appeal to my sensibilities either, but that is nothing to do with their mysterious zero.
People who read this story also read