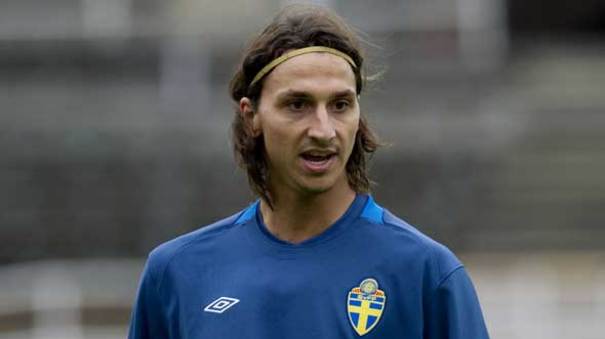 Zlatan Ibrahimovic was just a young child when he fell from the roof of his kindergarten.
Where many children would receive a hug, the Skane youngster got a slap for his pain.
This is one of many stories that has driven the Swedish captain to an astonishing eight league title wins in a row, a feat that halted when Milan finished as Serie A runners-up last season.
Yet despite his super-stardom and status as Sweden's golden boy, Zlatan has often underperformed on the international stage.
After quitting international football, it took the appointment of current coach Erik Hamren, and then only after ten months of gentle coaxing, for the inspirational forward to return to the national team for an August 2010 victory over Scotland. Initially he was heralded; that soon turned to mistrust.
Playing in a combination of Hamren's favoured 4-2-3-1, as the lone forward, and 4-4-2 alongside Johan Elmander, Zlatan struggled. Sweden's impressive final round 3-2 victory over Netherlands came when their captain was serving a suspension.
Sweden finished the international year with two abject defeats in November, against Denmark and England. Zlatan was slated for his poor performances. "Do Milan keep the real Zlatan and send us a copy for every international game?" asked Dagens Nyheter's Johan Esk in response to a second ineffective performance in a 4-4-2 formation.
Prior to that England game the Swedish media had at length talked of the 53 per cent winning percentage with Zlatan in the team since he made his 2002 debut. The percentage of wins during that time with their captain missing was 75 per cent.
Something had to change, and luckily for Sweden's Euro hopes, that change was just around the corner.
Playing in the centre of an advanced midfield three, supported by two deeper-lying central players, Zlatan ripped Croatia apart in Zagreb as Sweden powered to a 3-1 win. With the space and instruction to roam where he wanted, the captain dropped deep to collect the ball, released the more advanced Elmander with a number of slide-rule passes, and appeared here, there and everywhere as the home defence struggled to pick him up.
The free role has quickly become the position in the team for Zlatan, and he has thrived. He found space in abundance during last week's 3-2 victory over Iceland and this week, while not quite as effective, Zlatan looked to be able to cut the Serbians apart at will as Sweden laboured to a 2-1 win.
After 28 Serie A goals for Milan last season, the signs are good. Despite the winning percentages with and without him, Sweden need their captain in fine form if they are to advance from the group stage. With the form he is in, along with the instruction to do as he pleases with four midfielders taking over his defensive responsibilities, Zlatan will be hoping that it is hugs he receives from the Swedish supporters and not a slap should he fall from this roof of expectation.
You can follow Andy Hudson on Twitter throughout the tournament. He writes regularly on Swedish football here
Related articles
People who read this story also read