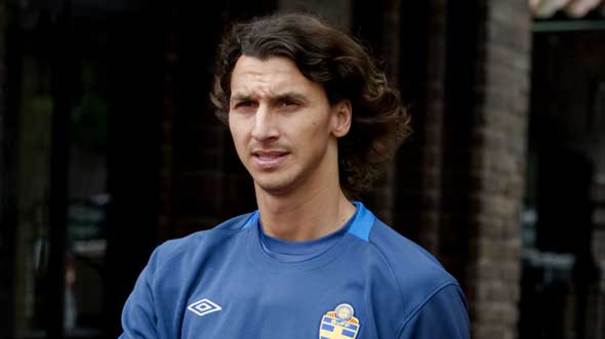 The morning after the night before.
"We've used up our joker," answered midfielder Kim Källström in answer to a question about where Sweden go from here after they opened their Euro 2012 campaign with a 2-1 defeat against the host nation, Ukraine.
For many Swedish supporters, there were too many jokers out on the Olimpiyskiy Stadium pitch as their side stuttered, deviated horrendously from their game plan and allowed Andriy Shevchenko to follow the Ukrainian script so perfectly.
Sweden's style of play for the past two years under Erik Hamrén has been to move the ball quickly and to attack swiftly. Short, sharp bursts of energy characterised by players of the calibre of Zlatan Ibrahimović, Rasmus Elm, Ola Toivonen and Sebastian Larsson. For large periods of the match the only evidence of Swedish swiftness was how quickly they could concede possession.
The hosts went in at half-time well on top when it came to possession, having held the ball for 62% of the first-half. An improved performance by Sweden during the second-half reduced Ukrainian possession to 55%. Yet when Sweden had the ball they only completed 297 passes – the fewest of any team during the first round of matches. Chief culprits were Toivonen, who completed only 45 percent of his intended passes, and Larsson, who found a teammate only 54 percent of the time.
No wonder Sweden were pegged back by a team with such a vociferous and expectant crowd behind them.
Johan Elmander had been expected to start the match, the decision to play being left with the forward. Markus Rosenberg started as the lone forward instead. Almost all talk before the match had been about a broken metatarsal on the man from Alingsås. As a result there was plenty that was missed by many observers.
Elm was moved inside to occupy a deep-lying playmaker decision with Toivonen slotting in on the left of the midfield and Anders Svensson – so experienced and a player you would want on your side should you be on the defensive – dropped to the bench. Sweden were overrun in the middle. Even before the first-half was at an end, there were calls for changes to be made. Such was the disjointed nature of the Swedish performance that each call seemed different to the last.
Some said to get Toivonen off, others said Elm, while more said Rosenberg, who had at least claimed the game's first shot on target after half-an-hour. No change was made.
In fact, Sweden then came out for the second-half and looked much better. A cool pass from Källström found Ibrahimović who flicked the ball in for the opener after 52 minutes. Only Sweden didn't revert to type in terms of their attacking play; rather they reverted to more recent type with ugly defending.
No lessons had been learned since pre-tournament victories over Iceland and Serbia – a fact not lost amongst Swedish fans. Huge disappointment is directed at that defence. Both Iceland and Serbia scored soft headers and Shevchenko did likewise in Kyiv. Yes, the second goal was sublime in its finish, but Lustig, a player with 74 minutes for Sweden and five appearances for Celtic during 2012 after last appearing for Rosenborg in November 2011, went wandering to leave the front post open.
Ibrahimović had missed a chance to clear as the ball swung over, a shame considering he had taken that same position up for Milan all season and had shown that under the right circumstances he could actually defend (he never made one successful tackle last night).
The first goal had arrived due to Olof Mellberg having no awareness of Shevchenko's position before the superb movement took him from an ocean of space to rather merely a sea.
So where now for Sweden?
Back home seems to be the popular answer for the fans. After all, this was the game where victory had to be achieved. There are echoes of Euro 2000 where the Swedes opened against the hosts and went down 2-1 in Brussels, with Belgium scoring as a result of a defensive error.
But stop for a moment. Wasn't Ibrahimović simply superb last night? Forget the patronising television commentary that accompanied this match. This was the Swedish captain in irresistible form for much of the game.
Though as much as he was irresistible, at other times he was simply irascible. An argument with Rosenberg at the end of the first-half; a disagreement with Marcus Allbäck, a member of the backroom staff, afterwards; disgusted when players went to the WAGs at the end of the game and that burning laser stare at Elmander when a glorious chance to equalise was spurned as the dying embers of the game were flickering. This is the Ibrahimović that Sweden need and you could almost imagine him screaming in the dressing room that: "I AM ZLATAN – JUST DO IT."
Hope has all but gone, but as Sportbladet's Erik Niva implored the team to "find the biggest mirror that you can, stand in front of it and ask: why did you not do what you said you would do? Why did you not do what you promised?", as Hamrén sat up until 4.30am dissecting the game before grabbing a couple of hours of sleep, as Zlatan is probably still screaming at his teammates right now, one thing is clear: Sweden cannot play any worse than this again.
And should Sweden improve towards a level of play that they are capable of then no matter what happens in defence, they can outscore teams. Should England have anything to fear on Friday night? Many think not, but Sweden's wounded pride and the prospect of defeat should leave Englishmen quaking.
Andy Hudson is an expert in all things Swedish football. Follow him on Twitter
Related articles
People who read this story also read