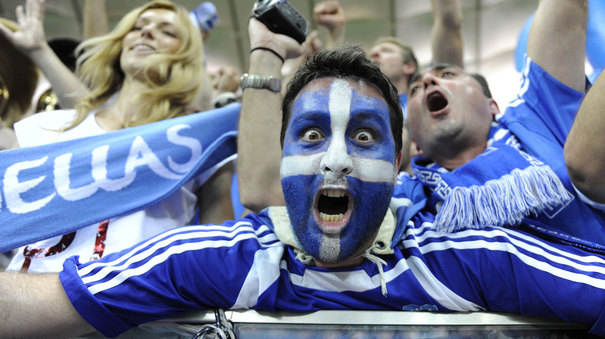 There's a very fine line between describing national tropes in a way that your every-man supporter will relate to and falling into national stereotypes.
Ho ho ho, those Irish, they're only here for the craic, aren't they? If that were the case, why hire a world renowned manager just for the laugh? Ho ho ho, those Italians, they get a lead and try and defend it, don't they? That'll never help them win multiple World Cups.
We, on the other hand, have no problem at all with going straight for the throat. We're not going to tiptoe around the issue of national identities, we're going stomp all over them with our size 13s.
Group A was meant to be boring, wasn't it? This was the one that was going to produce no goals and produce more naysayers than a horse whispering convention. How wrong they were.
Russia and Poland went at each other with a ferocious intensity. Anyone might think that they had a bit of history together. The Russians took the lead when Andrei Arshavin's cross was headed in by Alan Dzagoev, who slotted home like a long-thin four-block piece in Tetris. Poland drew level when Jacob Blazcykowski scored a goal of such quality that you wonder why our very own handymen can't display such craftsmanship.
There are only a limited number of things that football pundits know about Greece. It is part of the laws of the football writer that should you write about their misfortune then you need to either a.) talk about how poor they are, y'know, like their own economy! b.) bring up the idea of them cursing the Greek gods c.) make reference to the team of 2004 producing "the greatest moment in the country's history".
To paraphrase the Life of Brian, apart from philosophy, morals, reason, law, architecture, Socrates - not that one - yoghurt and a whole load of ripping yarns, what have the Greeks ever done for us?
The reason for the Greek's problems is found as far away from Mount Olympus as possible, and their flaws are decidedly human. For the second and third time in two matches Jose Holobas was caught out of position, gifting the Czech Republic a 2-0 lead.
At this point I should add that rule d.) refers to "Greeks bearing gifts". Having done just that, at least the Czech's were good enough to reciprocate, when Peter Cech's crisp packet hands flapped at a simple ball and allowed Gekas a tap in.
It looks as if the tournament is going to have to continue without a healthy dose of vitamin C, as the Oranje are teetering on the edge of elimination. A 2-1 defeat to Germany means they need to beat Portugal by two goals and hope that Germany can duff up Denmark. Around this point I make a tilting at windmills remark.
George McFly, aka Mario Gomez, reached 88mph to put the Germans 2-0 up before half-time, with the Dutch looking like a right bunch of cloggers. Only Wesley Sneijder seemed to be willing to raise the tempo of the match, and take things to the Germans. When Robin van Persie finally remembered that he was quite good and pulled a goal back, there was some signs of life from the Netherlands, but not enough to get a second.
Which means Portugal's fate is back in their own hands as they beat Denmark 3-2. The main talking point was not so much the score, but the fact that Nicklas Bendtner actually managed to play at something like the level that he does in his own mind. In his head he's Roy Race and Too Madeira in pink boots; in reality he's an occasionally decent striker who probably found his level at Sunderland. Still, what's the point in setting your expectations low?
For one night only Bendtner eclipsed Cristiano Ronaldo, who was sullen and under-whelming. Like Astro Boy without any celestial powers, so, just boy really. Renowned master-villain and destroyer of worlds, Pepe, opened the scoring before Helder Postiga doubled the lead.
From being in complete control Portugal then let things slip, allowing Bendtner to get a double and incur the wrath of the UEFA beaks for exposing a pair of pants with a sponsor's name on them. Heaven forbid that sponsors get involved in football, not least ones bold enough to think that having their name on Nicklas Bendtner's smalls is a good marketing ploy.
Just when it seemed the Danes had managed a point, Varela scored a winner that was both brilliant and rubbish at the same time. Having completely missed the ball with his first swing, he absolutely annihilated it with his second, thrashing past Andersen in the Denmark goals.
Spain remembered that they are allowed to score goals, and aren't just some sort of modern-art project, when they took on Ireland. As with Greece, it is mandatory to discuss the "luck of the Irish" in every piece written about them, whether they found fortune or not. Personally, I'd prefer to stay clear of such cliches and invent my own.
Giovanni Trappattoni got a bit of stick for the 4-0 defeat by Spain, particularly in the selection and deployment of an almost increasingly negative formation. The Irish love a man with a plan when they come into a major tournament. You could almost say they are big fans of... Euro vision. Nyaaaaaaaaa!
Fernando Torres may still look like the ghost of a girl in a Japanese horror film, but he was looking more like the striker which Liverpool bought than the Willo the Wisp phantasm which semi-appeared for Chelsea last term. Goals from Cesc Fabregas and David Silva gave the scoreline the emphasis that it probably deserved.
It may be shamelessly stolen from David Schiavone, but it's worth pointing to a potentially cruel irony in Italian football this week. Their 1-1 draw with Croatia means that should Grunge's Slaven Bilic draw 2-2 with Spain then Italy would be eliminated regardless of their own performance against Ireland on Monday.
Well, that sounds about as ironic as an Alanis Morrisette song, I hear you cry. Well, replies I, in a season where there has been so much scrutiny over match-fixing, illicit betting and cash for draws, it would be somewhat cruel were Italy to miss out as a result of the collusion of opponents.
It was all going so well when Andrea Pirlo curled a free-kick in for the first dead-ball goal since 2004. But then Italy got sloppy and Croatia got adventurous and Mario Mandzukic scored a goal that means the Croats have still never tasted defeat at the hands of the Italians.
Speaking of prophecies, England and Sweden always draw with each other. England had never beaten the Swedes in a major competition, and only once had they won at all since the late 1960s. Even then, it took an own goal from Daniel Majstorovic to settle the match. This was an obvious match for the score-draw.
The much maligned Andy Carroll gave England a half-time lead, which they looked well capable of protecting. Then beard-of-the-year nominee, Olof Mellberg powered in a couple of goals by virtue of his own exceptional facial hair, giving Sweden the lead. Back came England, and Theo Walcott managed a somewhat fortuitous equaliser, before Danny Wellbeck got a winner which eliminates the Swedes already. You could say they were flat-packed off.
England aren't through yet, though, as they still have to contend with Ukraine, who made France work for a 2-0 win in Kiev. Someone had obviously displeased the footballing gods, as there was an hour long delay in kick off, cue tasteful slow motion, HD shots of gourmand Frenchmen glistening and topless in the rain. That's what the tournament is for. Who can fail to love a Frenchman in the nip?
To repay the hardy souls that watched the match, Karim Benzema inspired France to victory, setting up Jeremy Menez (surely one for the Alan Dzagoev school?) and Youan Cabaye for victory. A point against Sweden will be enough to confirm France's place in the next round.
And we do doth our berets to them for that.
Related articles