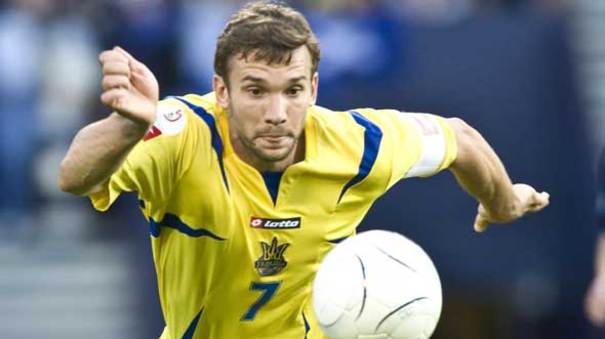 Monday's match was more than just a game; it was Ukraine's first ever match played at the European Championships.
The atmosphere before, during and after the game was absolutely electric. It was like a battle between Ukrainian Cossacks and Swedish Vikings, with Blokhin and Shevchenko leading Ukrainian troops to a historical victory. This outstanding win will surely be remembered as one of the brightest moments of our country whether the Ukraine national team makes it to the later stages of the competition or not.
Performance wise, Ukraine employed an approach that Valeriy Lobanovskyy's Dynamo Kyiv has always been known for, namely fast counterattacks through wingers (Konoplyanka and Yarmolenko used by Blokhin as inverted wingers), hard pressing and collective football (or total football as we also know it).
Oleg Blokhin went with his expected 4-4-2 (4-4-1-1) formation. Andriy Voronin, who deserves a special praise for his performance after spending almost the entire second half of a season as a bench-warmer at Dynamo Moscow, put on an excellent display, dropping into deep positions to orchestrate Ukraine's attacking moves as well as helping his team defensively.
After the match Oleg Blokhin was pleased with the team's overall performance stating that it was the game he had expected. He also pointed out that there is still room for improvement, especially from a tactical perspective.
As for Ukraine's William Wallace, Andriy Shevchenko silenced all the critics who had written him off before the Euros. I have to admit that I had also been a bit sceptical about his form, given Andriy's constant fitness problems of late.
Shevchenko rose to the challenge to make a wonderful gift not only for a third child he and his wife are expecting but also for the whole country that is going through serious problems both in political and economical terms. In the wake of the match the fan zones of Ukrainian cities hosting Euro 2012 games turned into a yellow and blue ocean covered with waves of positive emotions and national pride.
A P.S. from Sheva: "I'm overwhelmed with emotions, this is something fantastic. I feel like I have become ten years younger. I want to thank the boys and our fans. For us, every game is like a final".
You can read Oleksandr Sereda on Twitter.
Related articles
People who read this story also read