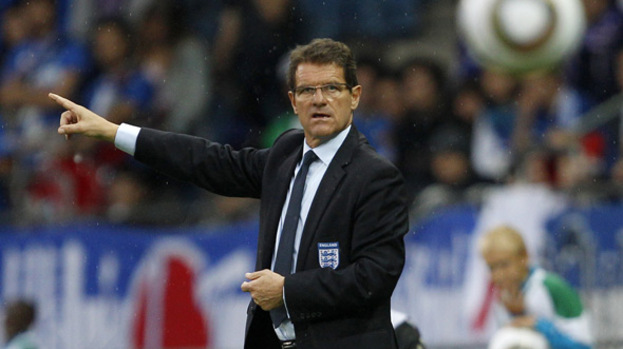 There are now 736 names definitely going to the finals in South Africa.

Each coach has now named his 23 man squad, the group that he thinks is best capable of making waves in the World Cup. There have been some notable omissions (Ronaldinho, Benzema, Cambiasso, Zanetti, Nasri, and apparently some guy called Walcott?), but with the players now confirmed for the finals there is a whole new level of intrigue to be found. Ready yourself for a stat attack...

England will have the oldest squad at the tournament, with an average age of 28 years and eight months. This is no doubt skewed by the fact that they will also have the oldest player at the tournament in David James, who will be just shy of his 40th birthday by The Big Kickoff. Brazil and Italy are the second and third oldest sides, averaging some four years on Ghana - the most youthful side in South Africa at just over 24 years old. The Black Stars have named just two players over the age of 30, yet still average 25 caps per squad member. Germany have an equally youthful look to their side, with nine players under the age of 24 making Joachim Low's final cut. Only North Korea and the aforementioned Ghana side have a younger set of players. The youngest individual is Ajax and Denmark's wonderkid Christian Eriksen, who only turned 18 in February.

If international experience is to play a key role in the next month, then Japan will be well suited. The average player in the Japanese squad has 47 caps, more than double the number of the average Algerian (19.6 caps per player). Certainly, there are also several coaches with great faith in uncapped professionals, as up to 20 players will be on flights to South Africa having never experienced international football before. It could be a remarkable story for Sandar Boschker, of the Netherlands, who could make his first Dutch appearance at a World Cup, aged 39.

Experienced players will always be required in knockout competitions, and there are none more experienced than Armando Guevara of Honduras and Rigobert Song of Cameroon, both of whom have represented their countries 133 times (Fabio Cannavaro is just behind on 132). Song could yet break an unwanted record if he is sent off at the 2010 finals, by being the first man ever to see red at three different World Cup events. He is, however, one of only two players at this year's showcase to have also appeared in the 1994 World Cup; South Korea's goalkeeper Lee Woon-Jae is the other veteran from USA '94.

The goalkeeping position may also cause some controversy in North Korea. FIFA Article 26.3 of the World Cup Regulations say "Each association will be required to provide Fifa with a final list of no more than 23 players (three of whom shall be goalkeepers)", and while the benefits of having three shot-stoppers are open to some debate, North Korea have taken the bold step of naming striker, Kim Myong-Won, amongst their allocated goalkeepers. While Myong-Won is unlikely to pull on the gloves in a group featuring Brazil, Portugal and Ivory Coast, it may well open a loophole that other sides can exploit to include more attacking options.

There are, of course, alternatives to sacrificing a goalkeeper for more attacking options, particularly if your Number One is capable of getting on the scoresheet. Richard Kingson, of Ghana and Wigan, is the only goalkeeper at the World Cup who has scored an international goal, netting the equaliser against Tanzania in 2008. Vincent Enyeama of Nigeria may well add to that record, as he is known for taking penalties for his club, Happoel Tel Aviv.

Ghana may also be part of another World Cup first, should the Boateng brothers line up against one another when Germany play Ghana. Kevin-Prince Boateng recently declared his allegiance to his father's homeland in Ghana, and may well face his younger brother Jerome, who recently broke into the German side. No brothers have ever faced each other in a World Cup match.

English clubs will provide more players for sides bound for South Africa than any other. 118 of the players on show at the finals ply their trade in the English leagues, with 84 from Germany, 80 from Italy and 60 from Spain. Chelsea have more players in South Africa than any other club side, with 13 representatives. Liverpool will provide 12, while Bayern Munich and Barcelona will provide the finals with 11 each. Inter, Real Madrid, Arsenal and Panathinaikos have 10 players at the finals. It is perhaps of no surprise considering the financial muscle of these leagues, to discover, that England, Italy and Germany have named squads of entirely home based players. Nigeria are the only team to have named a squad featuring no home based footballers in their final 23.

There will be an unique quadruple available to several players this summer. If any Inter Milan players win in South Africa, they will have won their domestic league, domestic cup, Champions League and World Cup in one single season. It remains a possibility for Walter Samuel, Diego Milito (both Argentina), Rene Krhin (Slovenia), Dejan Stankovic (Serbia), Sulley Muntari (Ghana), Wesley Sneijder (Netherlands), Samuel Eto'o (Cameroon), Julio Cesar, Maicon and Lucio (all Brazil). Who would bet against an Internazionale player making it a very special clean sweep this summer?

Finally, there are 13 players going to the World Cup in search of a second winners medal. Can you name them? Gianluigi Buffon, Daniele De Rossi, Fabio Cannavaro, Gennaro Gattuso, Alberto Gilardino, Vincenzo Iaquinta, Mauro Camoranesi, Gianluca Zambrotta and Andrea Pirlo are survivors from Italy's successful campaign four years ago. Lucio, Kaka and Gilberto Silva won the World Cup with Brazil in 2002, while Thierry Henry is the sole remainder from France's victory in 1998.

Appetite whetted yet?