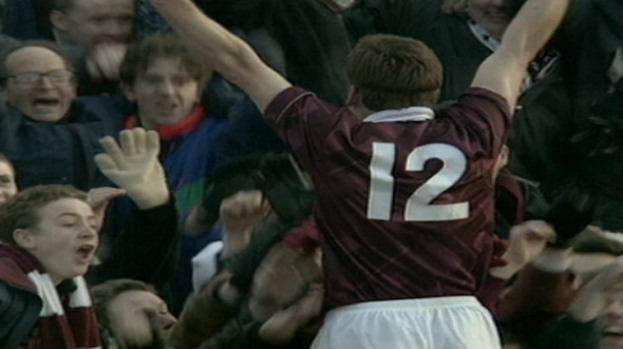 Who is living in fear and who is striding confidently down the street with just two days to go until the biggest cup final ever?
Hearts winger Andy Driver admits he is losing sleep as he lies there imagining the feeling of scoring the winner in front of a packed Hampden.
Pat Stanton, a legend at Easter Road with almost 400 appearances in green and white, thinks it sums up football that Hibs would get to a final is such an uninspiring year in the SPL. Could that be the omen that finally sees the cup delivered down Leith Walk?
Player of the year Lewis Stevenson thinks that all Jambos are terrified of losing on Sunday. Is he right?
The fans are having their say, and letting the players know exactly what Saturday means. Decades of following their team will be defined at Hampden Stadium this weekend – what would you tell your heroes, if you had the chance?
TOP STORIES
Andy Driver: 'I feel 15 again dreaming of Hampden glory'
He has gone from a transfer request to the Scottish Cup final. Will Driver's dreams come true?
Pat Fenlon promises Hibs won't be bullied by Hearts
Hibs have been shifting the pressure on to Hearts by the bucket load from their Dublin safe haven. The manager wants his players to stand toe-to-toe with them on Saturday.
Pat Stanton warns Hearts their derby record could turn when they least expect it
His name is revered among the fans of the Cabbage, but Pat Stanton and his famous Hibernian side of the 60s and 70s never won a Scottish Cup. He admits it would be emotional to see the team come home with the trophy now.
Wayne Foster wants his derby moment to be eclipsed
Fans still sing his name from the slopes of Tynecastle Park, 18 years after his derby winner in the cup. Now Wayne wants a new hero to emerge.
Lewis Stevenson says Hearts are living in fear of a Hibs win
Pressure? What pressure. Lewis Stevenson thinks the other side are tearing themselves apart with worry this week. (The Sun)
MUST READ
Hibs legend Lawrie Reilly talks to STV Edinburgh
The last living member of the Famous Five talks exclusively and candidly to STV Edinburgh. A true 'must read'.
Hearts fan travels from Australia – but he doesn't have a ticket
They say football fanaticism makes you do daft things, and Aussie exile Innes is no different. He has traveled 37 hours round the globe…but still doesn't have a ticket for the game.
Craig Gordon is jealous of the players as he heads back to Hampden
The former Hearts goalkeeper was a hero in the 2006 penalty shoot-out. Now Britain's most expensive keeper wishes he was back on the pitch for the derby that's 116 years in the making. (The Scotsman)
James Kirk's All Glory Hibernian
Stand up comedian James Kirk takes a humorous look at the team he is relying on to make his dreams come true. (Scottish Comedy FC)
MUST WATCH
If you could have your two minutes alone with the stars of your team, what would you say?
Don't forget to join in with all the cup final banter on Twitter by using the hashtag #saltnsaucefinal
More About Scottish Cup Final 2012
Related articles