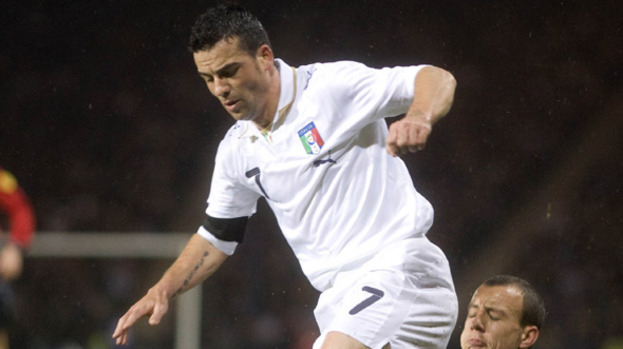 Italy went into Sunday's Euro 2012 Group C match with Spain as massive underdogs, largely thanks to a series of unfortunate events leading up to the tournament. However, no one would have predicted what happened next.
In my last article, I outlined a number of incidents which may have caused this to be one of the worst tournaments in Azzurri history, possibly even equalling the level of humiliation reached at the 2010 World Cup. But it was not to be, as Antonio Di Natale delivered a gift worthy of Father Christmas himself.
Cesare Prandelli set up with three at the back as many had expected given the midweek training sessions, and as a result of Andrea Barzagli's injury Daniele De Rossi was drafted in as an emergency centre-back to much groaning from pundits and fans alike.
However, it was to prove a masterstroke by the former Fiorentina coach as the Roman put in a gladiatorial performance, leading from the back, making tackle after tackle and disproving anyone who said he couldn't play in the position.
It could be argued that what the defence gained the midfield lost as Andrea Pirlo, Claudio Marchisio and Thiago Motta at times struggled to keep hold of the ball, but possession is something the Spanish specialise in, plus the tactics of both meant the central areas were always going to be packed, thus leaving space limited. That said, it was Pirlo who provided the assist for the opener.
The use of six Juventus players who had played 3-5-2 for the latter half of the season, plus Christian Maggio, who is a liability as a full-back and who was reverted to his more accustomed wing-back role, clearly had an effect as the players seemed more comfortable and created a host of chances which only needed a finishing touch.
As the game wore on, the name of Di Natale started to be uttered more and more – at least in the pizzeria I was watching in – and finally in the 56th minute Prandelli obliged, replacing the somewhat ineffective Mario Balotelli. It wasn't until five minutes later that the Udinese frontman did what Super Mario could not.
One on one with Iker Casillas, the 34-year-old opened his body and calmly slotted past the Real Madrid man sending a country into euphoria and easing the minds of the doubters.
Not that it lasted, as four minutes later Cesc Fabregas brought everyone back to earth with a well-worked goal.
Going back to Balotelli, whilst it had been thought the onus of the Italy attack would be placed on his shoulders, it seems he has yet to develop the kind of maturity expected in a high-pressure tournament environment and should be benched as soon as possible.
Just what he was thinking as he strolled up to Casillas after some great approach work is beyond anyone's comprehension. In addition, signs of frustration were evident throughout and thus I think Prandelli needs a new plan form Mario… super-sub maybe?
Cassano proved he has the class to cause any defence problems, but doubts about his fitness remain.
On balance a 1-1 draw was a fair result, Italy had much the better of the first half and never looked in any real danger until the latter half of the second period, when it looked as if tired legs were becoming more of a problem.
The tactical change meant that with essentially a block of six players sitting on the 18-yard line, Spain found it hard to break through the Azzurri wall, and possibly contributed to their own downfall by failing to utilise the flanks, instead "tiki-taka-ing" their way right into Giorgio Chiellini, De Rossi and co.
One note of caution; while the performance was excellent it means nothing unless we can go one better against Croatia, only then can we say that this Italy have turned a corner and can be considered contenders once more.
David Schiavone is the editor of Forza Italian Football. You can follow him on Twitter.
More About Euro 2012
Related articles
People who read this story also read