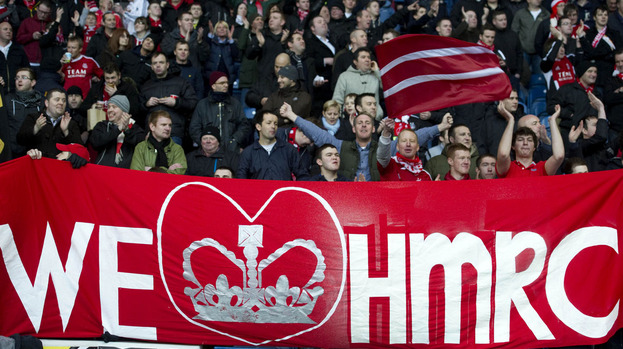 Aberdeen's leading supporters groups have united in demanding that the Pittodrie club votes against the Rangers 'newco' being granted entry to the SPL.
Following Tuesday's developments, which plunged the Glasgow club into liquidation, Dons supporters want the stricken Ibrox club to be demoted to the SFL third flight.
As matters stand, Rangers require at least eight of the 12 SPL members to vote in favour of them remaining in the league. But Aberdeen aficionados believe that would send out entirely the wrong message.
Indeed, as David Maclennan, the chairman of the Gothenburg Reds Supporters Group, told STV: "Voting the new Rangers company back into the SPL would set a dangerous precedent, because there would be nothing to stop other clubs from spending stupid amounts of cash and then forming a 'newco' to avoid repaying creditors and escaping their obligations.
"The only way the SPL can retain any credibility is if it looks at the bigger picture, grasps the anger of so many fans at the way Rangers have behaved, and tells them to start anew in the Third Division.
"I just don't believe some of the scaremongering which is going on, about how Scottish football can't survive without Rangers and I know of many supporters who won't renew their season tickets at Pittodrie if they allow Rangers to remain where they are. This isn't about a witch hunt against any particular club, it is about following the rules and accepting that the same punishment has to be given to Rangers as was handed out to Livingston."
That view was echoed by Paul Manson of the Beach End Reds Supporters Group, who disagreed vehemently with the opinion of former players such as Jim Bett and Andy Goram, who have maintained that relegating Rangers to the bottom tier would spell financial disaster for Scotland's other leading clubs.
"I haven't renewed my season ticket yet and I won't do so if Aberdeen take a soft stance on Rangers, and I know of plenty other fans who share my attitude and who won't be back at Pittodrie if they permit the 'newco' to stay in the SPL," said Manson.
"I have emailed Aberdeen FC this week to make my views clear, and have pointed out that the notion we might struggle without Rangers doesn't stand up to close scrutiny. Suppose we met them twice in the SPL: the ticket revenue from travelling Ibrox fans would be in the region of £200,000. But if even 1000 Dons supporters don't renew their season tickets - and that might be a conservative estimate - that will cost the club £293,000.
"I am not taking this action lightly, because I have followed Aberdeen for many years and I want to continue to do so in the future. But the board needs to recognise the simple fact that Rangers don't deserve special treatment, and, frankly, if you act as they have done, you deserve to be punished severely. The right decision is to make them start from scratch in the Third Division and I don't think it would take them long to climb up the leagues."
There was a contrary view from Charlie Gaff, the secretary of the Newmachar Red White and Blue Supporters Club, who believes that Rangers are being made to pay a disproportionate price for alleged transgressions by former directors such as Sir David Murray and Craig Whyte.
"I am totally disillusioned and people are putting the boot in, who have benefited from Rangers for years, and I have never seen so much vitriol and hypocrisy in my life," said Gaff, who asked that we made clear he was speaking in a personal capacity.
"I believe it will end up with Rangers in Division Three and I will be happy to pay my money to go watch them play the likes of Forfar Athletic, Peterhead and East Stirlingshire. But, tell you what, I will never be back to the likes of Tannadice and Pittodrie, once we return to the SPL. It's a sad day for Scottish football and it might just be the beginning of the end for many clubs."
In some respects, Aberdeen can't win, regardless of how their officials choose to act. But if they hand any lifeline to Rangers, it is obvious they will be risking the loss of custom of many of their most devoted backers.
More About Focus on Rangers
Related articles