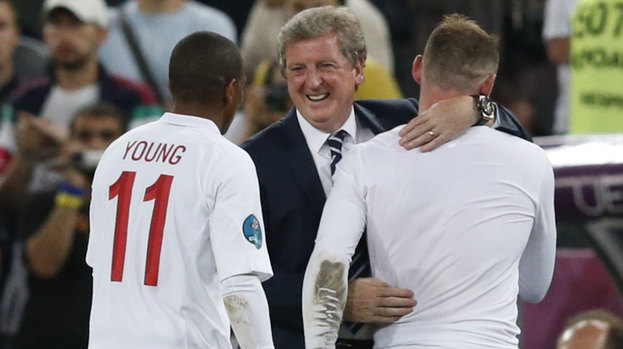 Rope-a-dope Roy has done it again. Unfussy, pragmatic and in the end, victorious.
If Roy Hodgson ever needed his own slogan, he could do a lot worse than adopt "Keep Calm and Qualify for the Knockout Stages".
I'll admit that the trio of group matches were much tighter than England's group victory margin suggests, but Roy Hodgson's demeanour seems to have translated quite beautifully to his players and there's a definite sense of team spirit which has papered over the obvious cracks that have appeared in the Sweden and Ukraine games.
In the past, scoring a goal for England has come as more of a relief to the players rather than the joyous expulsion of emotion that it should be.
Look at Wayne Rooney's reaction to scoring the simplest of goals.
Gone is the angry scowl that adorned his puggish little face and it's been replaced by a cheeky smile and joke about using Andy Carroll's 99p wet-look gel from Superdrug.
Hell, they all seem to be even getting along with John Terry. That is the true strength of the Roy Hodgson effect.
He's come in to the England dressing room with a bunch of keys in one hand and a can of WD40 in the other and freed the players from the shackles that have held them back from producing these types of results.
I'll stop short of calling for him to replace David Cameron as Prime Minister but he has succeeded where many have failed in uniting the egos and rivalries that hindered England teams of the past.
He is proving to be his own man in the sense of not being swayed by outside influences and whether by luck or through his expert judgement, he has got every critical decision spot on.
Team spirit has become a much undervalued commodity in the modern game but without it all you have is eleven players doing their own individual jobs.
There has been a trend for managers to simply rely on the acquisition of quality players and expect their individual physical skills to be enough to win game but you will only get so far without togetherness and a collective desire.
Two teams from this season stick out when I think of this.
The Chelsea team under Andre Villas-Boas became disjointed and ultimately rebelled against their manager because of how he broke up the team dynamic that had won them titles under Mourinho and Ancelotti.
Leicester City under Sven Goran Eriksson were an expensively cobbled together squad who constantly argued amongst themselves and that translated itself out on the pitch.
Even this week you only have to look as far as Group A to see the grit of the Greeks triumph against the ruble rich Russians to prove the worth of graft over craft.
The whole England team epitomises the value of the team ethic and no-one has done that more so than Joleon Lescott.
I admit that earlier in my life as a pundit I feared for England's chances with him at the heart of the defence but he has been near faultless in his work.
He has become the perfect example of the type of player who assures this England team add up to a greater sum of their parts.
Lescott has carried his more experienced partner through the first two games and when John Terry did decide to arrive at the tournament against the Ukraine, they proved a formidable barrier.
At the risk of making the majority of Scottish fans spontaneously combust in rage, I'm going to mention the goal that never was.
Yes, it was over the line and yes, England have profited yet again from another goal-line decision going in their favour but this is football. It didn't happen because we are English or that we are lucky, it just happened like every other incident in the game.
Not once did I ever bleat on about goal-line technology when Lampard's shot clearly crossed the Neuer's goal line because it is irrelevant after the event.
If I'm totally honest, I couldn't care less if the Hawk Eye system or any other form of technology is brought into football. It's another step towards sanitizing our game so that it morphs into an unrecognizable form of the sport we all love.
I don't want football to be a sterile, black and white environment. The officials own personal take on the game is all part of it. We might get some crap referees from time to time but then again, some players perform like crap too.
A goalkeeper makes a mistake, it's a goal. If the referee makes a mistake, it might not be a goal but what's the difference between the two?
Some people have even attempted to dismiss John Terry's "clearance" because it did actually cross the line but because of his determination and effort, England's clean sheet was preserved.
I've been critical of Terry so far and rightly so but in that one instance he has justified his inclusion over Rio Ferdinand. His defensive instincts are possibly the best I have ever witnessed.
How many times over the years have you seen him sense the danger, position himself behind Petr Cech and clear the ball off the line?
Every one of them is worth as much as a goal to his team and in a game where the position-less attacking player the modern game's creating is king, his is a rare quality indeed.
The Italians now pose England a sterner test but certainly no more difficult a test than the French posed in their opening game. There'll be no need for Roy Hodgson to become a tactical tinker and change England's approach to the Azzurri.
We may not be firing on all cylinders but neither is it a broken model that needs fixing or even tweaking. Personnel may alter slightly but the aim will be the same.
And the name of that game is to be obstinate. If I was to predict a scoreline, I'd be foolish not to think that it will end in a defensive 0-0 stalemate which will be decided on penalties.
Catenaccio, anyone?
David Preece contributes to the Sabotage Times. You can follow him on Twitter.
More About Euro 2012
Related articles
People who read this story also read