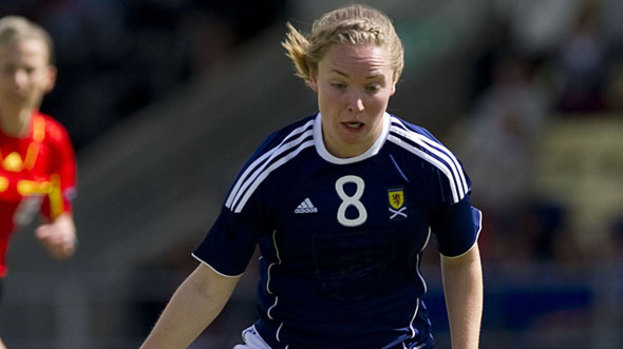 Kim Little, Scotland's leading women's footballer, will be in the Great Britain ranks for the London Olympics when the GB squad is announced on Tuesday.
The 21-year-old from Mintlaw, just outside Aberdeen, confirmed to STV on Monday both that she has made herself available for selection and wants to compete at the Games.
Little, who has already amassed 70 international caps and scored a hat-trick against Israel in her country's 8-1 victory at Tynecastle last weekend, has thus set herself on a collision course with the Scottish Football Association, which has repeatedly declared its' opposition to Scottish players joining a British team.
An SFA spokeswomen confirmed this week that the governing body's stance had not changed. "We have told the players our position, the reasons for that position and the feedback we have had from supporters [on the issue]," stated Clare Bodel. "But ultimately, the decision is down to the individual players."
However, Little, who is one of the leading performers with Arsenal Ladies, has made it clear that she regards participating at the Olympics as one of her biggest ambitions. And, considering that she she turns out alongside several England internationalists, week in, week out, she believes that there is no conflict of interest in her joining with these club colleagues for the duration of the Games.
Little was named Player of the Match at last year's FA Cup final and scored the opening goal in her side's 2-0 victory over Bristol Academy, prompting the Gunners' manager, Laura Harvey, to describe her as "world class".
Indeed, she has been a talent to savour ever since she took part in and beat the boys during a mini-football tournament in Aberdeen ten years ago.
Little might not be the only Scot in the women's ranks. Her Arsenal team mate, Jenny Beattie, the daughter of the former Scotland and British Lions rugby star, John, is also tipped to be included in the GB squad.
Related articles
People who read this story also read