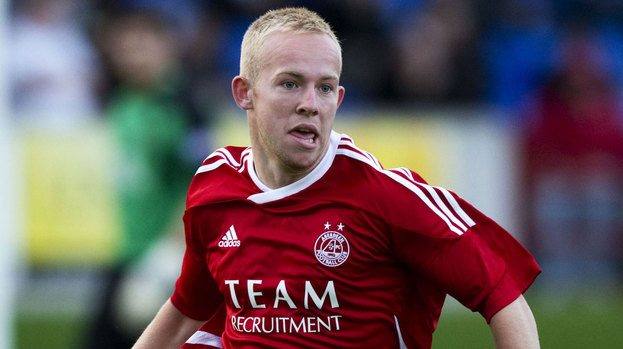 Aberdeen will have a new look about them next season, with Craig Brown already having been hard at work to prepare for the coming campaign.
Already in the door, Jonny Hayes from Inverness CT and Niall McGinn from Celtic will look to provide the cutting edge that made the Dons the lowest scorers in the SPL last season.
But Brown also has a host of young players at his disposal who will be looking to follow the success of Ryan Jack from last season. Winger Peter Pawlett adds another creative option but it is the returning Nicky Low who will be looking to establish a place in the Dons side.
The 20-year-old midfielder, who spent last season at Forfar Athletic, was rewarded for his excellent form in the Second Division with a new 12-month contract at Pittodrie.
Despite Forfar's poor finish in the league, Low was at the heart of their prolific attacking system and scooped the Fans' Player of the Year and Young Player of the Year in the space of a few weeks.
The small creative midfielder is comfortable on the left-hand side but has enjoyed his role in the middle of the park for Forfar under Dick Campbell. The youngster is hoping his experience in the SFL can help him emulate his team-mate Ryan Jack who has been a star performer for the Dons in recent months.
"I had a more chances at Forfar, which I should have scored more from but I've also got 13 or 14 assists, as well as, the six goals." Low explained.
"I'm a central midfielder but I used to be a left midfielder, until my U19 manager Neil Cooper said he would like to try me in the middle. As the season went on, I started to play better and was really enjoying it. I think I can do a job in both positions. If that's where Craig Brown wants me to play, then I'm happy to do that.
"Ryan and I played in the same team and he was also my captain. He's a great player and he's showed that this season playing with Aberdeen, but he's also been rewarded with Scotland U21 call-ups.
"It is great motivation for me to try and achieve what he is doing. The boys haven't had the best of seasons and they know that. In pre-season, if I do well, the gaffer knows he can rely on me to play all the time. It's up to me to show what I can do."
Low was placed in a familiar position to many young Scottish talents with his contract expiring and the prospect of another year playing uncompetitive reserve football or warming the Pittodrie substitute's bench.
Instead, the player had a heart-to-heart with his manager and decided a season-long loan-spell in the SFL would be a chance for him to prove his ability. Low has made 28 league appearances.
He added: "My contract was up so I knew if I went to Forfar and did well, I could come back to Aberdeen and get a new deal. After speaking to the gaffer, I know I'll play a few more games.
"There is also more pressure because the tempo of the ball is quicker and a lot sharper. At the second division, it is still a very high level and there are guys who have played at the highest level playing there now, but perhaps a bit older now.
"It's been better to go out on loan. It's far more competitive. There are folk playing for win bonuses and points. In the reserves, you're just playing to keep the fitness up.
"It's been good for me and has toughened me up as a player which has helped me come a long way. I've had a lot of kicks during every game. My legs are covered in bruises now but I enjoy it."
The Gourock-born youngster was picked up by Aberdeen in his early teens before relocating to the city five years ago. Low is no doubts where his current allegiances lie, having become so close to the club and supporters.
He explained: "I used to support my hometown team Morton but I'm obviously Aberdeen fan having been here so long. It was great to see the team get to a semi-final because it has been so long which is disappointing.
"The fans up here are always excellent. They always back the team and they always travel well, especially to Hampden. It's a great day out for the supporters and for the club. They back the boys so much and it was disappointing not to win the game a few weeks back.
"But hopefully, next season we can do it again. It would be great for the supporters, they deserve it."
You can follow Ross Dunbar on Twitter @RossDunbar93
People who read this story also read