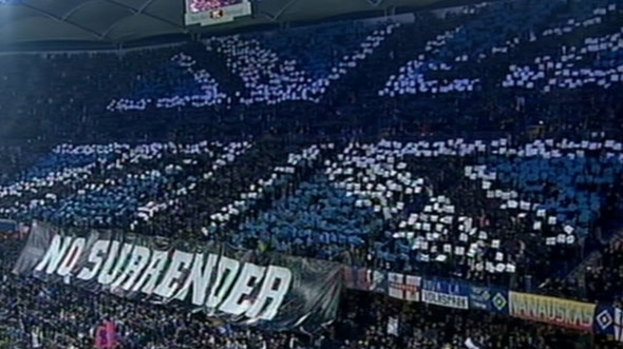 Hamburg supporters had a surprise welcome inside the HSH Nordbank Arena ahead of their Europa League tie with Celtic. When the two teams emerged onto the pitch, fans behind the goal unveiled a huge display of a giant Union Jack with a banner unfurled underneath which read "No Surrender".
The 4,000 strong Celtic travelling support were stunned to find the old taunt at a foreign ground. They can after all get Union Flags from the rivals at home - though this was much more provocative than would be allowed in Scotland
With Uefa having dished out one improper conduct charge this week, the governing body will take an interest in what was obviously a carefully planned and well-organised show involving more than a thousand Hamburg supporters.
The phrase 'No Surrender' originates from the Siege of Derry, part of the fighting which led to the catholic King James II being ousted from power by his protestant daughter Mary and her husband William of Orange.
Rival fans always seek to wind up the opposition and in many cases it is seen as fair game around Europe. The memories of the infamous Celtic v Rapid Vienna games in the 1980s were quickly brought to the surface when the two sides were drawn in the same group in this year's Europa League.
But the European footballing authorities will be concerned that such a specific taunt, based on historical religious affiliations, has surfaced in this way at a showpiece occasion.
Fans of Hamburg's local rivals St Pauli were believed to be in the Celtic end of the ground as well. Hamburg fans were seen wearing Rangers shirts and scarves when they visited Glasgow two weeks ago.