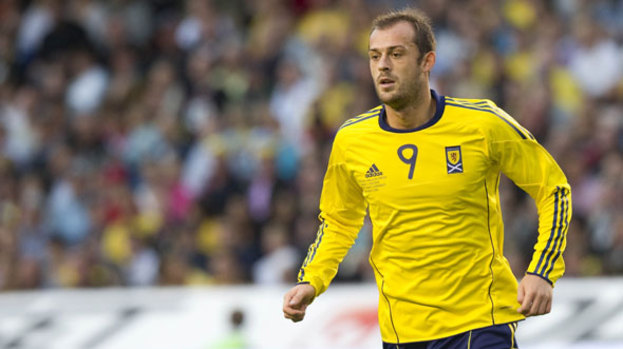 Sir Alex Ferguson has lamented the absence of Steven Fletcher from the Scotland national team.
The Manchester United boss, who believes Craig Levein's side are only a handful of players away from having a competitive squad, says a midfield-heavy squad would benefit from the prowess of the Wolverhampton Wanderers striker.
"I think if Craig could get a top class central defender and a quality striker to go with what he already has, it would make a big difference," Ferguson said in an interview in the Scotland match programme for the Australia game.
"It would bring more balance to a squad where the midfield is so strong. That's why I think it's a shame that Craig and Steven Fletcher haven't been able to reach a compromise.
"Fletcher is a very useful striker, the type the national team could always use. It think it would be good for the country if he were available for selection."
Fletcher, who is subject to interest from Sunderland to make a return to the English Premier League, scored 12 goals in 34 appearances for Wolves last term.
He has been absent from the international fold since rejecting a call-up for the Nations Cup game with Northern Ireland in February 2011, leading to a dispute between the player and national boss Levein.
Ferguson believes there is plenty of talent in the Scotland ranks, and is backing the national boss' management style.
"I've been watching the Scotland team the past couple of years and they do seem to be building up a good collection of midfield players," he said.
"They have lads who have good vision and some who can score goals. That's always a very handy thing to have in your midfielders.
"I've spoken to Craig Levein a number of times and I must say I like the way he does his work. I like his stubbornness, his determination to do things his way.
"Maybe he reminds me of me. But he is his own man and that's necessary in that particular job, because when you're in charge of a national team, you are on your own."
Related articles