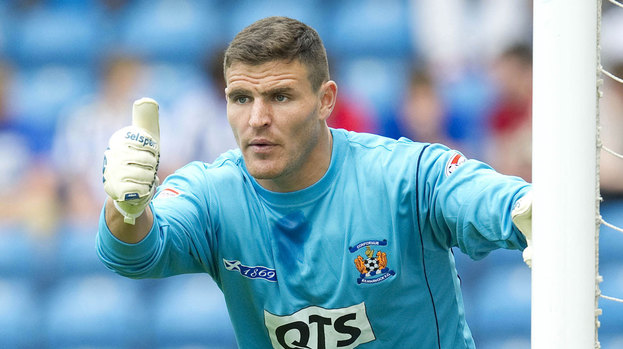 Kyle Letheren says he will make the most of the opportunity afforded to him to become Kilmarnock's first choice goalkeeper.
The Welshman started the 3-1 win over Dundee United at the weekend, deputising for the injured Cammy Bell, who will miss the next ten weeks with a wrist injury.
Letheren fended off competition from Anssi Jaakkola to take over in goals and, having also made two appearances towards the end of last season, says he is determined to make a strong case to retain his place.
"I didn't wish that injury upon Cammy but that happens in football and I've got eight weeks to go out there and prove myself," said Letheren. "I'm looking forward to it and going to grasp it with both hands.
"I'm not a nervous boy, I'm a very confident boy. I've played three SPL games now and been on the winning side three times and I'm going to do everything in my power to keep it that way.
"Obviously I'm going to get better the more games I play. I'm going to work as hard as I can and see where we are at the end of the eight weeks."
Letheren admits it will be tough to convince manager Kenny Shiels to freeze out Bell when he returns from injury but the 24-year-old believes he will benefit from the experience regardless.
"I know I've got to play out of my skin to keep it because Cammy is going to come back in, he is a Scottish international," he added.
"Basically it's mine for now. If he does come back in then as long as I do myself justice for later on in my career, then I've got to look at it that way.
"But at the moment I'm just concentrating on these eight to ten weeks and showing people what I can do, and helping Kilmarnock up the league and through in the cup."
Related articles