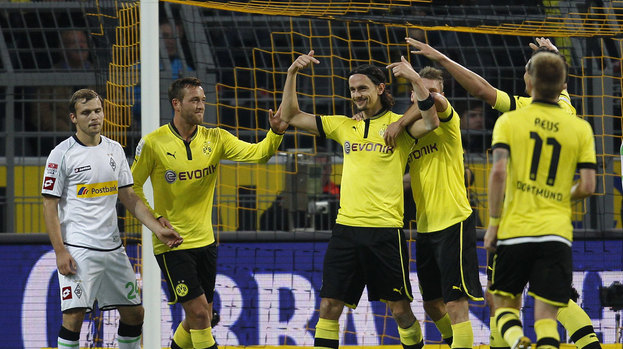 Neven Subotic has a lot of gratitude for his current coach, Jurgen Klopp. He trusts him, and the feeling is mutual. His two league championship medals would be an accurate indicator of that.
An unsettled childhood – largely down to the outbreak of war in the Balkans in 1994 – forced young Subotic and his family to move to Germany, and further on to the United States, where he developed his taste for soccer. A successful trial at FSV Mainz under the watchful eye of 'Kloppo' was the start of relationship which has been unbroken to this date.
They spent a season together at Mainz, until Borussia Dortmund came calling for Klopp, who had built a glowing reputation, in the summer of 2008. A sign of the 43-year-old's admiration for the Serbian, Klopp's first move in the BVB hot-seat was to make Subotic a fundamental part of his long-term plans.
"I think one of the most important things when you go to a new club, or a new country, like I did, is to have a coach that does not like young players." Subotic explained. "He wanted me and I knew that.
"I had some offers from other clubs in the Bundesliga after my time at Mainz but as soon as I got the call from 'Kloppo', I didn't want to hear anything about the other clubs. I'm grateful that coach Klopp trusted me and I think it has paid off for him and me."
His five-year-deal has proven to be one of the shrewdest moves of Klopp's impressive tenure. Their extensive experience, as a partnership, has helped shape the club's best period of national success since the Ottmar Hitzfeld reign nearly two decades ago.
"The most important thing between me and Mats [Hummels] is that we have played 100+ matches together and then you kind of know what is going to do and when he is going to do it. You can always adjust to that and he can do the same with me.
"When I'm about to do the offside trap, he can already smell it. I think Mats and I have played for about four years now and [Lukas] Piszczek came about a year later. I don't think it is just because everyone is good players but we all understand each other on the pitch, as well as, off the park." the Serbian explained.
It would be wrong to ignore the contribution of Dortmund's young attacking prodigies, Mario Götze - and now Manchester United playmaker - Shinji Kagawa's impact in their consecutive league championships. Likewise, the defensive stability has been just as authoritative. Since 2008, the two central defenders have made 88 Bundesliga appearances together, collecting 34 clean sheets, winning 58 and conceding 77 goals.
In contrast to the 51 league games where the Subotic/Hummels partnership has been broken, Klopp's side have lost 55 goals in the Bundesliga and have been defeated on 11 occasions.
This season, though, Dortmund have looked weak in defence – despite, largely keeping the same consistent backline that secured two consecutive league titles. The omission of Sven Bender, currently recovering from injury, may have had a significantly underplayed effect on the amount of exposure to Hummels and Subotic, especially against quick, counter-attacking opponents.
He has started alongside Hummels and Subotic in 37 matches where Dortmund have won 25 of them. Bender missed the opening five matches through injury, which saw the champions leak five goals in two games against Eintracht Frankfurt and Hamburg. The 23-year-old is, arguably, just as important in complementing Dortmund's attacking play, as the regular back-five due to his positional awareness and strong defensive play.
But left-back is where Dortmund have looked fragile, this season. The lack of attacking contribution from Kevin Grosskreutz has seen him fall out-of-favour, generally, at the club, which in turn, has seen the defensive protection to Marcel Schmelzer removed and the side concede a number of opportunities from that side of the pitch.
Despite being German champions for two consecutive seasons, Borussia Dortmund found themselves in the awkward position as the stand-out club from Pot Four. There was little shock in Nyon when BVB were slotted in the same group as Real Madrid, Manchester City and Ajax – known as the "Group of Death".
Subotic is a modest character who appreciates that Dortmund's performances in recent European campaigns have been disappointing. The Bundesliga champions have been knocked out in the group stages of the inaugural Europa League and Champions League, respectively, in their two title-winning campaigns. The Serbian international is painting a picture of an exciting battle when Dortmund take on City next week.
He added: "That is how the rules go, unfortunately. We haven't done that great in the last couple of years. I think we were only in the CL once in the last few years and just a few times in the Europa League. We certainly haven't proved ourselves in this ground and it is up to us to make sure we do that.
"It's a clear underdog story but we have proved that at least on a national basis that we can play with the big teams. I don't know how many times we have beaten Bayern but they are a club that buy about 40 million guys and they have a lot of money. This is football and this is what it is all about.
"To be the underdog, we just have to go out and chase the big guys. It will be fun, for me, in that stadium against a team of world class players. I'm just happy to play."
You can follow Ross Dunbar on Twitter @RossDunbar93