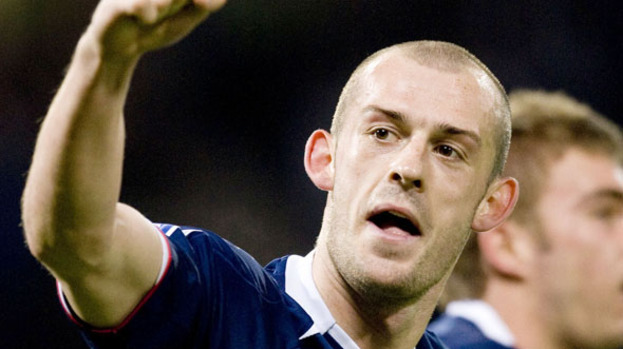 Out of exile Scotland striker Steven Fletcher has revealed he is "desperate" to make up for lost time with his country.
The Sunderland goalscorer trained with the international side on Monday for the first time since being recalled following a spat with manager Craig Levein.
Fletcher, 25, said that the past has now been "put to bed" and that the only focus for him now is on the future, and qualifying for the 2014 World Cup in Brazil.
He said he regrets the impasse, caused by him texting to pull out of a squad after being left out for Scotland last, ill-fated, European Championships qualifying campaign.
Speaking on the official Scottish FA website, the former Hibernian, Burnley and Wolves player said: "I had a good chat with the manager when he came to visit at the training ground last week and it while it was important we discussed the past and put it to bed, it was more important that we focused on the future.
"I understand why people want to know what changed but the truth, as the manager said last week, was that the situation wasn't helping anyone. I am a proud Scot and it is a privilege to play for my country.
"The manager touched on how the situation came about last week. I am desperate to play for Scotland again and, like Craig, I regret that it has taken this long to come about. I'm sure we have both done a lot of thinking during the last two years but the country comes first.
"I think it just became apparent that we all needed to move on. The most important thing is that I can look to restart my international career. When I first spoke to Craig again it was fine and was not awkward at all. We both said our piece and agreed that whatever happened, the country comes first."
Fletcher credited his manager, the former Celtic boss Martin O'Neill, and Scotland and Sunderland colleague Phil Bardsley, for supporting him in his move and return to the national set-up.
He last joined up with the team in November 2011, and he said he returns to the squad a better a more experienced player.
Fletcher said: "It was good to see the players when I arrived yesterday. I am sharing a room with Scott Brown so already it feels like I have never been away and feels like I have been here for a week already.
"We will be going to Wales looking to win and there is no point looking beyond that game. Our supporters will be there in their thousands and we need their support to put ourselves in contention in the group. I can promise them I will give everything I can along with the rest of the squad to qualify for Brazil.
"Playing in a World Cup finals in one of the most famous football nations in the world is the pinnacle of any player's career and I am delighted that I have the opportunity again to help take Scotland there."
Related articles