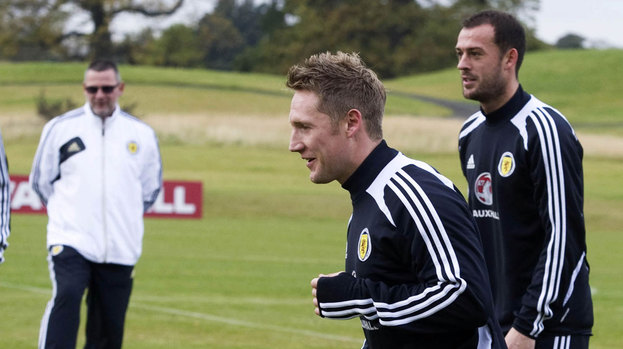 Kris Commons has said that he never gave up hope of a return to the Scotland squad and will now do all he can to help the team qualify for World Cup 2014.
Commons has been absent from recent squads and after a return to impressive form with Celtic, had spoken of his disappointment at not being selected.
Following the injuries to Robert Snodgrass and Jordan Rhodes, Commons has been given a chance to shine and he intends to make the most of it.
"It's great to be back again," said the player, who last featured in the 2-0 defeat to Brazil at The Emirates Stadium in March last year.
"I have been keeping an eye on the squad during the time I have been out and the important thing was to keep playing as well as I could and I knew the opportunity would come. I am now just looking to grab it with both hands."
Commons said that European involvement with Celtic, and the chance to play on club football's biggest stage, had given him a boost.
"I am playing with a lot of confidence and that has been reflected in the results we have had at the club, especially in the Champions League," he told the Scottish FA's official website.
"Our whole pre-season was set-up to qualify for the Champions League group stages and I think our results and performances so far have given the whole of Scottish football a boost."
Now, Commons is aiming to make a contribution to Scotland's qualifying campaign and said the whole squad is pulling together in the hope of making Brazil 2014.
"We all want to reach the World Cup finals," he said.
"It is a huge thing playing against the best players in Europe at club level in the Champions League.
"A lot of the players in the Scotland squad play in England against some of the best players in the world but as a country we all want to compete against the best nations at the World Cup finals, especially this one as it is being played on one of the real homes of football, Brazil.
"The next two games are really important but it was always going to be a group where countries take points off each other," he said.
"I hope to be given the opportunity to contribute to two huge games. We need to win against Wales first and then we can see about Belgium after that. After two draws it is important to get a win and the way the group is set up, that could put us right into contention."
Related articles