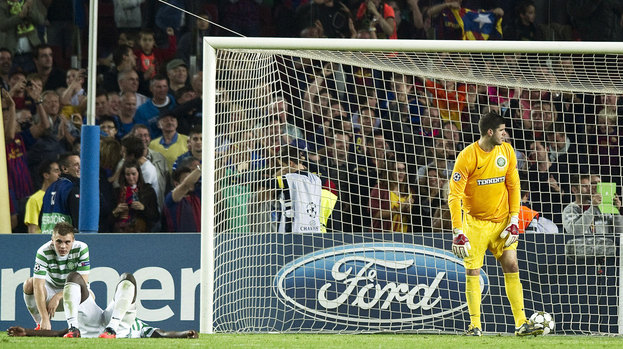 Celtic goalkeeper Fraser Forster has said that players were left "devastated" by the late goal that gave Barcelona a 2-1 victory in the Champions League on Tuesday night.
The Scottish champions had taken the lead through Georgios Samaras before Andres Iniesta levelled the score before half-time. Forster produced a series of impressive saves to deny the hosts but was finally beaten by Jordi Alba in the 94th minute.
"In the end, everyone is devastated," he said. "We just had to defend one more cross and we weren't able to do that.
"But we've shown what we can do on a European level. We deserved at least a point, but when you're playing Barcelona there's a lot of defending to do, they never stopped for 94 minutes.
"We've defended brilliantly, everyone has given 100 per cent and that's why it's so devastating.
"It's nice to make saves but we didn't hold on for the point, so they're meaningless at the end of the day. I would have swapped it all for a point."
Defender Kelvin Wilson was equally upset by the late blow and pointed to the efforts of the team to close down Lionel messi in particular.
"Gutted is the word," Wilson told Sky Sports.
"We defended with our lives all game and it looked like we'd done it. It's never over 'til the final whistle with Barca and they proved it.
"I tried (to stop Messi). I feel I did okay but the whole team defensively did brilliantly. It's a team game, not an individual game.
"We're gutted more than anything. It's the last minute of the game and you try to see it out. We'll learn from the mistakes and hope next time we can complete it."
Related articles
People who read this story also read