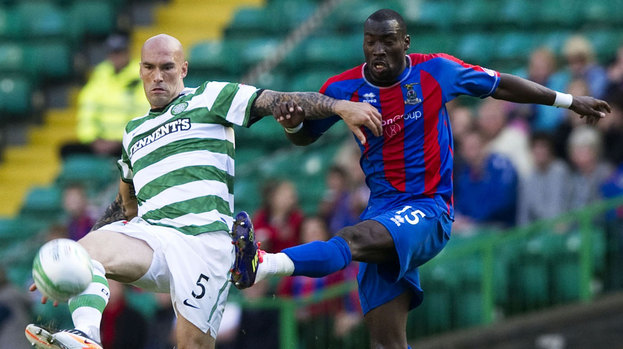 The Scottish football landscape is full of statements that are sure to get people talking.
Firstly on the back of their victory in Sunday's Glasgow derby win, Kyle Lafferty has claimed Rangers are the best team in Scotland.
Despite trailing rivals Celtic by 18 points in the league table, the Northern Ireland international feels his side "have best young players and the best old players."
Another one to get tongue's wagging is Thomas Rogne's assertion that Cha Du Ri's challenge on Lee Wallace wasn't a foul, never mind a red card.
And finally ahead of tonight's SPL game with St Johstone, Inverness CT boss Terry Butcher has labelled his top scorer Gregory Tade "phenomenal" after he hit in ninth league goal of the campaign at the weekend.
TOP STORIES
Kyle Lafferty claims 'Rangers are the best team in Scotland'
The Northern Ireland forward believes his team are better than rivals Celtic when they reach their potential.
Thomas Rogne believes referee got Cha red card call wrong
The Norwegian feels Calum Murray shouldn't have sent off his team-mate during Sunday's Glasgow derby.
Terry Butcher hails "phenomenal" Gregory Tade
Inverness CT boss praises the contribution of his top goalscorer.
Milos Lacny's Dundee United stint ends as striker needs surgery
The Slovakian striker has been told he needs 'career-saving' surgery after a training accident last week. (Daily Record)
Lee Croft would love to experience European adventure with St Johnstone
The on-loan midfielder says he would consider returning to McDiarmid Park next term. (Daily Record)
MUST READS
Why Leon Britton justifies they hype
Rob Smyth explains the reasons the Swansea midfielder has been handed the 'Xavi-lite' tage. (Life's a Pitch)
Sid Lowe revisits the 1994 Champions League clash between AC Milan and Barcelona. (The Guardian)
Robert McCracken celebrates Kilmarnock's Garry Hay for Lovely Left Foot
MUST WATCH
Mario Balotelli interrupts Internazionale press conference
The Manchester City striker was on hand to congratulate new caretaker coach, Andrea Stramaccioni, who replaced Claudio Ranieri at the Italian giants. (The Guardian)
David Vaughan scores a shocking own goal for Sunderland against Everton (Behind the Goals)
More About Football Talk