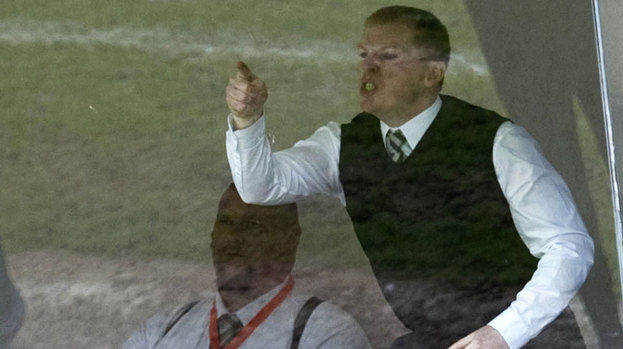 Celtic manager Neil Lennon has made a plea for consistency from officials after his team had a late penalty appeal denied in their 1-0 defeat to Dundee United.
Scott Robertson's goal proved to be the winner at Tannadice in a game which saw the Terrors secure a European spot for next season.
The Hoops were denied a late penalty when Emilio Izaguirre's cross hit the hand of United substitute Keith Watson.
Referee Ian Brines waved away the claims but Lennon believes the incident mirrored the penalty awarded against his team in the Scottish Cup semi-final defeat to Hearts at Hampden.
Asked if he thought it should have been a penalty, the Celtic boss replied: "Well, you tell me. What do you want me to do, criticise the referee? I have a three-game ban hanging over me already.
"What is the difference between the penalty given against us in the semi-final and that handball today?
"He (Iain Brines) will just say it wasn't a penalty but I want to know what is the difference.
"Maybe I should ring John Fleming (the Scottish Football Association's head of referee development) tomorrow and ask him what is the difference because if they want to give them against us as a penalty, then that one today has to be a penalty as well. You've got to be consistent.
"I am going to get accused of being a sore loser or blaming referees but it's not the point, what I want is an answer and I don't feel I get them."
Celtic suffered an early blow when Glenn Loovens injured his hamstring in the warm up with Thomas Rogne taking his place.
However he too had to come off after suffering a similar injury, with Lennon admitting he felt some of his players weren't fully focused on the match.
"It was a disappointing result and I am annoyed," he said.
"I was not happy with the attitude of some of the players out there today.
Related articles