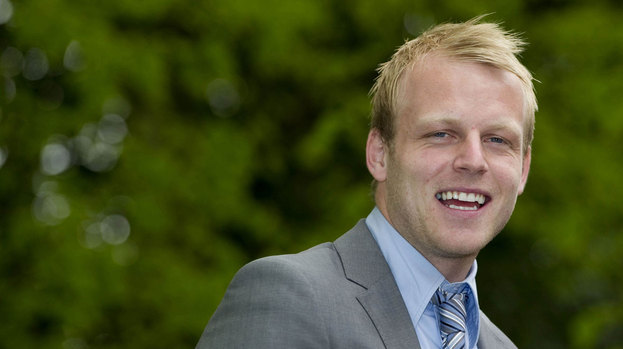 Steven Naismith is confident that he will play for Rangers again despite speculation about the club's future and his own.
Rangers' financial crisis deepened on Tuesday when preferred bidder Bill Miller said he was no longer interested in buying the club. That has heightened fears of liquidation though administrators claim they have several interested parties.
Whilst in administration the club rejected a bid from West Bromwich Albion for Naismith, who is currently recovering from a serious knee injury. He said that no matter what happened, he didn't expect to be leaving the club any time soon.
"I've not thought about it too much to be honest and, personally, I don't think I have [played my last game]," he said.
"I would like to think there is a team there for the 50,000 who turn up every two weeks and the 100,000 who travelled with the team to a UEFA Cup final.
"All these people need a team to support and, hopefully, at the end of this, there is a team there for them.
"It's not just a job, to come in and train every day and then play your games. It means more to everybody and it has shown in the results.
"I'm contracted to Rangers for the next three years and if the circumstances don't change then that's where I'll be. Definitely."
Asked if the club may need to sell him and other top players this summer to ease financial problems, Naismith said he was optimistic that it wouldn't prove to be the case.
"Hopefully Rangers don't need to go down that route," he said.
"As players, we want the best for the club. We have shown that in the past with everything that's been put in front of us.
"We decided to take wage cuts because we thought it was best for the club.
"The boys have gone out and performed in the last few months to give the fans something back for all their fantastic work and support.
"There is no one player who is bigger than the club.
"To be honest, unless circumstances change, the players will be right behind the club.
"But if different things come up, there will be decisions to be made. We will just have to wait and see what happens on that front."
More About Focus on Rangers
People who read this story also read