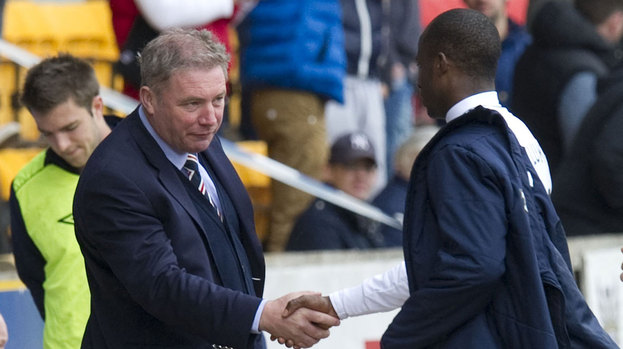 Rangers manager Ally McCoist says he's optimistic over his and the club's future after Charles Green had an offer accepted by administrators.
McCoist spoke to the former Sheffield United chief executive on Saturday evening before seeing his side beat St Johnstone 4-0 on the final day of the SPL season.
While the club's future still remains in the balance, McCoist says he hopes to be able to focus on football matters.
When asked whether Green had spoken to him about job security, McCoist appeared positive, saying: "Yes - I hope that's what I was reading from the conversation!
"I'd imagine I would have discussions in the next 48 hours with Charles, but it will help me hopefully in terms of being able to plan games for pre-season and maybe a pre-season trip.
"But the most important thing is we have to find out who will be here next season and whether we will be able to add to that squad.
"The next 48 hours will hopefully go a long way to finding out the answers to some of those questions.
"It would be great just to get back to answering questions about football because that's what we all do and that's what we love doing.
"The whole season has been absolutely bizarre.
"Nobody could have predicted or forecast what has happened this season. Hopefully it is now past us and we can start building again for the future.
"I would have to say it's probably the darkest season in the club's history in terms of the administration.
"We have had greater disasters which have affected people, but in terms of the club going into administration, it would have to be the blackest season yet."
With uncertainty over ownership and which league the club would play in, the former Scotland internationals has spoken of his frustration at being unable to plan for next term.
The club's appeal against their 12-month player registration ban will be held this week with McCoist hoping for a positive outcome for the Ibrox club.
He added: "He [Mr Green] understands, he has done due diligence on the club and knows the precarious situation we are in in terms of players possibly leaving.
"Just as important is the possibility of players not being able to come. But let's not kid ourselves, we are still in a very tricky situation here.
"There is a lot of hard work to be done and we are not anywhere near out of the woods yet.
"There is still a lot of work to be done for the deal to be totally clinched.
"But it's a step nearer and it's a step that had to be taken so I'm delighted about that. There is relief that we are stepping in the right direction.
"I remain very hopeful that the big step is taken and the club is handed over totally.
"That day will be one of relief, but I am certainly pleased with the progress that has been made, without doubt."
Related articles
People who read this story also read