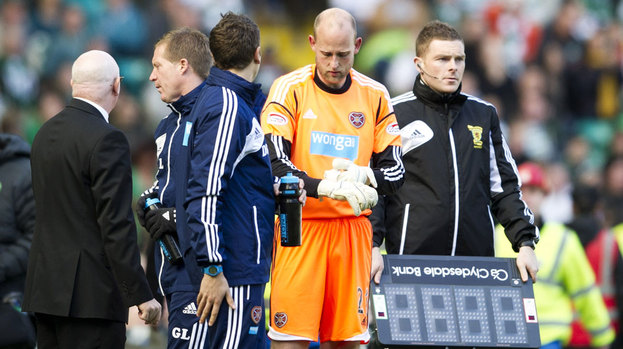 Sometimes its best to get the negative out of the way first, so you can concentrate on the positive. Leave them with the laugh, bury the bad, eat the fruit cake so you are left with the icing.
The first match to get out of the way was the game that wasn't. Whether nobody had topped up the meter, the hamsters hadn't been fed or there was a shortage of dilithium crystals, Motherwell's game with Dundee United had to be cancelled after an electrical failure. Personally, I like to believe it was down to an outbreak of Gremlins, engorged by a post-midnight trip to Upper Crust, but I couldn't swear on that testimony.
Such distractions aside, to business! Georgios Samaras is a very difficult footballer to get a handle on. A regular for a formidable Greek side, a player with a habit of scoring vital goals and a tireless worker, he so often resembles an armless man during a recitation of "When you're happy and you know it". Within the space of a week he can go from looking like a prized stallion, all pace and strength, to a pony with rollerblades on. This week he has been firmly the former.
After helping Celtic pull of the best result in Moscow since Police Academy 7, Samaras was the match winner in a very-definitely-post-Europe performance against Hearts. Indeed, the he showed just why he can be so frustrating, slicing an almost open-goal chance against the post with the kind of nonchalance that can only come from such knowing unpredictability.
Celtic rode their luck a little, particularly when Callum Paterson managed to out-Georgios Georgios with what appeared a fairly simple tap-in.
There can be few players for whom chaos theory is such a routine part of their existence than the aforementioned Samaras, but Peter Enckelman appears to be one. Capable of stunning feats of goalkeeping one minute, getting beaten by a throw-in from his own team-mate the next, the Finnish goalkeeper was called upon to take the gloves when Jamie McDonald was injured in a clash with Charlie Mulgrew.
Samaras vs. Enckelman was not so much an irresistible force against an immovable object as a basket of hammers against a colony of ironing ghosts; it makes no sense to science or rationale. Enckelman's translucence was the deciding factor as he allowed Samaras' relatively routine effort to pass through his body into the net. Celtic move two points clear of Hibernian.
There was mixed news for Kenny Shiels at Rugby Park as his Kilmarnock side went down to a 3-1 defeat to his childhood heroes, Aberdeen. Action figure and young player of the month Ryan Fraser was again the chief mischief maker for the Kilmarnock defence, adding both Ryan O'Leary and Liam Kelly to his own personal yellow card club.
It was the former of that pair who opened the scoring for Kilmarnock against his old club in the most unconventional of manners. Gary Harkins shot was beaten away by Jamie Langfield, only to comically slap off the knee of O'Leary. The ball spooned up into the air, toppling dominos shaped like a Christmas tree, setting off the Mouse-Trap chain reaction, hanging in orbit for a second, before plopping into the Aberdeen net.
The Aberdeen of recent years would have folded and sulked at such a kick in the stones from lady luck, but they equalised seconds after half time through Gavin Rae. Aberdeen then went ahead through Niall McGinn, jokingly placed alongside Cristiano Ronaldo in the ability stakes by Craig Brown. Oh Craig, you are a cad! Scott Vernon got his first SPL goal of the season as he chases the "at least double figures" target that his manager has set him. One SPL Trivia favourite was effusive in his praise.
Aberdeen SPL champions......

— Steve lovell (@steve_lovell) October 6, 2012
Meanwhile, Hibernian were getting a third swing of the bat at going top, this time when they faced Dundee, or to give them their full name, poor old Dundee. One goal from open play does not a positive season make.
Eoin Doyle continued his fine recent form, no doubt pleasing his missus, who hopes never to have to return to serving tea on Craggy Island. Leigh Griffiths' penalty against his former team and another rather exceptional David Wotherspoon goal meant that Hibernian go into the international break in second. Cripes.
Friday night played host to a match which – allow me to leave my cynicism hat at the door – actually seemed to be genuinely exciting to the neutral SPL supporter. Ross County would take on Inverness Caledonian Thistle for the first time in the SPL. It was a battle of two of the most free-scoring sides in the SPL, with the exception of Ross County. You may notice I put my cynicism hat back on there.
There was not a dry mouth in the house, and this was a cracking game of football. Ross Tokely very nearly forgot that he was turning out for his namesake County, when he bulleted a header against his own bar, but Caley took the lead shortly afterwards through Ross Draper. Upsetting the trend of Ross's in more than one way was Andrew Shinnie, who doubled the Inverness lead.
Iain Vigurs seemed to have given the Dingwall side some hope of getting back into the game, but Aaron Doran's volley made sure Ross County were dealt their third beating in a row. Doran's volley may have had all the subtlety of a lovechild of Geoff Shreeves and Kay Burley, but it showed exceptional technique, or "tekkers", if you are under ten, a cretin, or an under ten cretin.
A battle between Saints should really only be covered with the utmost reverence, and so it shall. Package this bad boy like a Scottish Game of Thrones and we'll sell it to the world.
T'was in the shire of McDiarmid where the Saints of Mirren and Johnstone didst do battle, with diminutive Nigel of Hasselbaink returning to torment those of a Buddie nature. Verily so, hey nonny nonny.
The miniature Dutch 50 Cent scored the first and had a large part to play in Murray Davidson's second as Steve Lomas' team picked up their fourth win in a row. Sir Lewis of Guy managed a consolation, which never really is much consolation at all, is it?
Related articles