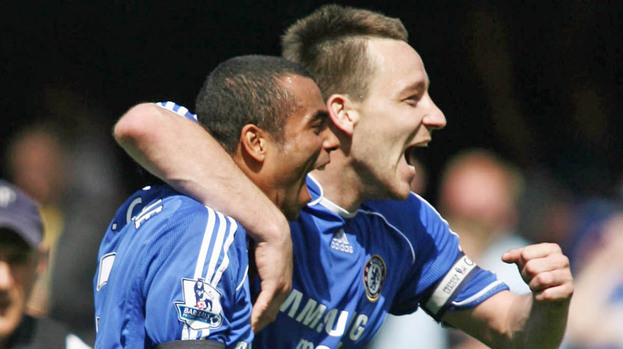 If love is blind, then love for a football club is blind, deaf, buried under seven tonnes of soil in a secret location outside Ulan Bator with corks stuffed up its nose and a do not disturb sign stapled to its face, lest any outside sensory input disturb its serene ignorance.
The last few weeks seem to have been a relentless slog through the gutters of behaviour for footballers and football clubs, and outside observers must be constantly baffled at how fans can continue to profess their devotion in the face of such contemptibility.
John Terry and Ashley Cole have been caught – if not red-handed, then certainly with deep-pink fingers – indulging in racial abuse and perjury respectively. And yet when these players take the pitch a Stamford Bridge, a vocal proportion of the crowd sing their praises all the higher.
These people are, of course, idiots – taking tribal loyalty and siege mentality to ridiculous heights as they support the unsupportable.
The more common, and more psychologically interesting, reaction among the fans is to applaud the shirt but stubbornly refuse to pass comment on the man occupying it. Those supporters are simply compartmentalising their feelings towards those individuals as they have done for years.
After all, the average fan will have silently loathed a fair number of the players who have ever run out in their team's colours – it's just that they'll have been targeted for missing a vital tackle in a semi-final, or just for being lazy, rather than having been proven a vile personality in a court of law. It is an easy and a practised exercise for a fan to identify a disliked player as representing their beloved club, but not representative of it.
And those employees operating off the pitch – ostensibly the architects of the club's direction and purpose – can be ignored as easily as those on it if need be.
Mike Ashley and his erratic mob of decision-makers in the Newcastle United boardroom have swung back to villains from their brief status as prudent visionaries in the eyes of the neutral observers after announcing a shirt sponsorship deal with Wonga – a firm who specialise in turning immediate debt troubles into slightly more distant, but exponentially larger debt troubles.
The moral dilemmas involved in taking Wonga's money are fairly clear for anyone, but the majority reaction from Newcastle fans seems to have been a shrug and vague acceptance that while Wonga may not be an ideal bedfellow, they are a legally sanctioned, highly successful business that want to give their club the large sacks of cash required to keep a steady flow of technically gifted francophone players kicking balls into the St James' Park nets.
We have had a test case for Wonga-acceptance here in Scotland, as Hearts have been taking their rapidly compounding shilling for just over a year. If there was any groundswell of moral objection among the Tynecastle faithful towards their exploitative benefactors, it was very softly whispered under the cheers greeting the Scottish Cup Final demolition of Hibs.
No matter how the money that (eventually) paid the wages of those cup-winners was earned, most Hearts fans would pay it 4,217 times over to savour that Hampden afternoon.
The simple truth is that football has always had its share of reprehensible characters sliming their way through their careers, doing and saying things that tar the reputations of the institutions that employ them – but fans are rarely so repulsed by them that they turn away from those institutions in protest. In reality, they just learn to focus on the non-bituminous areas of their clubs and carry on as normal.
The decision to follow a football club is rarely a rational one – based as it is on location, or coincidence, or liking the colour of a goalkeepers socks, or something equally arbitrary – that over time it feels like it was never a decision at all. You simply are a fan of that club, and you could no more disown it than you could your own legs.
Players and staff however, are completely transitory. Every fan can take comfort in the knowledge that while they'll still be sitting in the same seat and wearing the same colours in twenty years time, not one member of the squad or management will be able to say the same (except for Sir Alex Ferguson, who will still be in charge at Old Trafford into the next century as preserved brain floating in a jar of brine, beeping impatiently at fourth officials via his communications array).
If you find someone within your club objectionable, then just wait – they'll be gone soon enough, and the object of your affections will endure.
Nicol Hay is a writer, film maker and football blogger. You can follow him on Twitter @nicolhay.