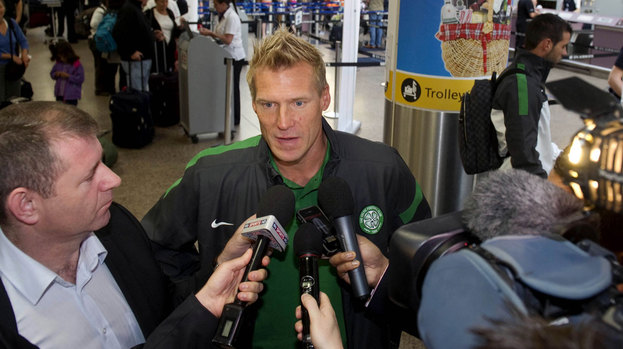 Johan Mjallby has said that Celtic will not sit on their one goal lead in the second leg of their Champions League qualifier against HJK.
A 2-1 win at Celtic Park last week gives the SPL champions a narrow advantage though manager Neil Lennon said after the match that the tie was "in the balance".
Lennon's assistant Mjallby was of the opinion that Celtic's ambitions would be best served by an attacking game plan. However, he did say that defensive discipline would be important.
"We've got the players that can hurt them but we need to be solid," he said. "We can't make the same mistake that we did a week ago when we conceded on a counter-attack.
"Helsinki are going to go forward a wee bit more than they did at Celtic Park which means there's going to be more space for our attacking players.
"I think we are better when we go on the attack. I don't know if we have the players to sit in and defend a lead. I don't think it's in our nature though of course when you go away from home in Europe you need to defend."
Mjallby added that the importance of the game was something that everyone at the club was aware of but didn't agree that the result could define Celtic's season at an early stage.
"It's a massive game for the club and for the players in the sense that the management want to improve and progress and to play in Europe," he added.
"It's a massive game because you get into the Champions League playoff but [with the losers dropping into the Europa League] it isn't a massive crisis if we don't go through.
"Every time we play I expect to win but that isn't always going to happen.
"We now that at half-time we are one goal up, we're leading 2-1 and yes, we're away from home but I don't see any reason why we can't go over there and win."
Related articles
People who read this story also read