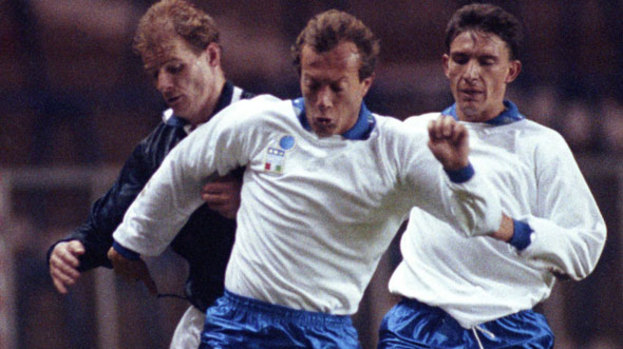 Franco Baresi is widely regarded as one of the greatest defenders of all time, playing for AC Milan for 20 years.
Baresi made his Milan debut in 1977, winning the first of six Serie A titles in 1979. Three years later he would be part of the Italian squad that won the World Cup in 1982.
Under the stewardship of Arrigo Sacchi, Baresi became the mainstay of a Milan side that conquered all before them. In 1988 he led the side to a second Serie A title, and a year later captained them to a 4-0 victory over Steaua Bucharest in the European Cup final. Baresi was named runner-up in the European footballer of the year award, a rarity for a defender.
In 1990 Milan retained their European title, defeating Benfica 1-0. Baresi again captained the side before taking his place in the Italian squad for the World Cup. They would finish in third place.
Milan won the 1991/92 Serie A title without losing a game, and embarked on an unbeaten run that lasted 58 games and almost two years. They retained the title in 1992/93 and again in 1993/94.
Baresi won his third and final European Cup medal when Milan defeated Barcelona 4-0 in 1994, before captaining his country to second place in the World Cup in the USA.
Baresi retired in 1997 having played almost 700 games for AC Milan. His number 6 shirt was retired as a mark of respect, as he was voted AC Milan player of the century.