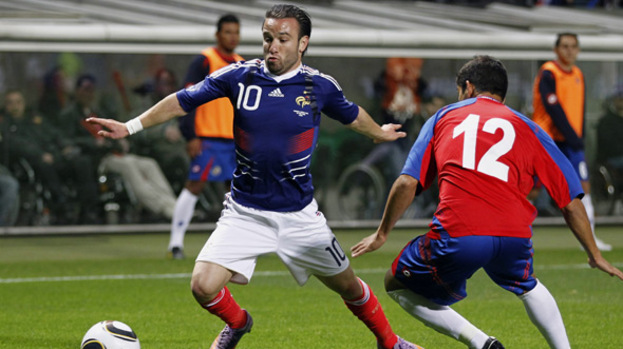 Olympique de Marseille have not had the best of starts to the domestic campaign in France, with only one win to their name after ten games played.
The club are undefeated in their last four league fixtures but have taken just six points from an available twelve. This lack of consistency and form means the former champions have slipped to 15th in the league standings, a total of 14 points off current pace-setters Paris Saint-Germain at the top of the table.
Forward Loïc Rémy has been in decent form domestically for Marseille, with four goals scored so far, but has been even more impressive at international level for France. Finding the back of the net seems to be a problem for the club at the moment with their goal difference not matching up to the other title contenders in France.
Ghanaian forward André Ayew, who was linked with a move away from the Stade Vélodrome this summer, can also cause problems for Arsenal due to his pace, vision, skill and general versatility going forward. A note of interest is that André's brother Jordan is also on the books at Marseille but does not start regularly for the club, something which is unlikely to change in this confrontation.
Arsenal fans may have their eyes fixed on French midfielder Mathieu Valbuena in this fixture as the player was linked with a move to the club during the summer transfer window. Marseille went as far as to say that he could leave if an acceptable price was negotiated. Such a move never came to fruition but Valbuena will be hoping to impress for Marseille regardless. All four of Rémy's goals in Ligue 1 this season have been assisted by Valbuena, showing the playmaker's creative vision in supporting the forward men.
Marseille usually boast an intimidating atmosphere and have a very passionate fan base in the south of France, though the capacity of their home ground, the Stade Vélodrome is currently reduced due to stadium renovations in preparation for Euro 2016, which will take place in France. When completed, the stadium will hold around 67,000 spectators, an increase of just under 7,000 on the current total capacity. For the moment, however, the capacity stands at 42,000.
At present, Marseille sit top of Group F with victories in their two matches in the Champions League. A modest 1-0 victory away to Olympiacos was followed by a resounding 3-0 victory over Bundesliga champions Borussia Dortmund to highlight the danger Marseille can pose in Europe, and proves that their slow start to the domestic season can be deceiving.
With neither side a relative giant in their respective leagues, able to make their mark domestically, it will be interesting to see just what transpires when the two meet in the Champions League.
Jason Milligan writes for French Football Weekly. You can follow him on twitter here.