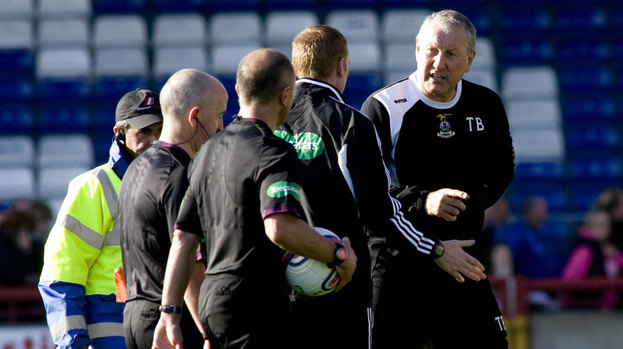 Aberdeen manager Craig Brown has said that Inverness boss Terry Butcher's complaints about refereeing in Saturday's match between the teams defy belief.
In an eventful 1-1 draw, both players had a man sent off and Inverness scored their goal from the penalty spot.
The Dons have appealed Russell Anderson's red card and Brown is confidetn the Scottish FA Fast track tribunal will rule that the sending off and penalty award were incorrect.
Butcher has said post-match that the decision that reduced his side to ten men, when Owain Tudur Jones was shown red, was unfair and that match official George Salmond made life difficult for his team. Brown said Inverness were fortunate given their approach to the game.
"I could not believe some of the stuff i was reading from Terry," he told the Daily Record.
"He was talking absolute nonsense. Terry came out and slaughtered the referee but in truth the officials did him a favour.
"We were hit with a double punishment when Inverness were awarded a penalty. We lost Russell and they scored the opening goal. An appeal is on the way and I am confident it will be overturned."
Brown also felt that the punishment dished out to Inverness was justified.
" Terry wasn't happy with the Tudur Jones red card but it was a shocking tackle. It was practically assault.
"There could have been three red cards for tackles on Ryan [Fraser]."
Related articles
People who read this story also read