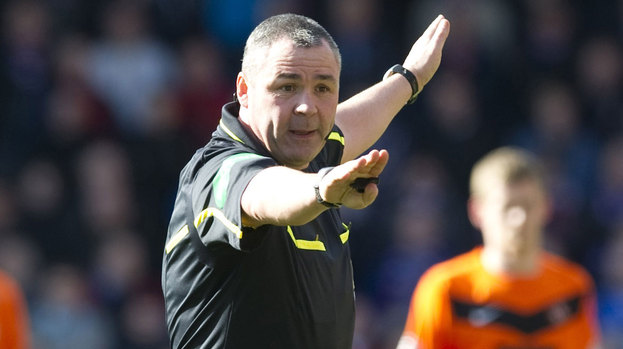 Retiring referee Brian Winter has said that match officials are chosen in a fair manner by the Scottish Football Association, denying claims to the contrary by Charlie Richmond.
Richmond quit refereeing earlier this week saying that officials had to "suck up to the right people" if they wanted to be appointed to high-profile games.
Winter, who is set to retire at the end of this season, said that Richmond's allegations were wrong and that refereeing was a meritocracy.
"There are a lot of good young referees coming through and if they are good enough they will get the chance," he said. "It is not a case of 'sooking up'.
"It is hard to become a grade one referee, but it is harder to stay there.
"Young referees will go on the same learning curve as all the referees have done, including Charlie and myself.
"And if they show ability and work hard then they will get their chance."
SFA head of refereeing John Fleming had responded to Richmond's claims by saying that the former ref had mad a "decreasing effort" to attend training courses and meetings. Winter said that he felt ongoing training was a vital part of the job.
"You need to put the shift in and that also means fulfilling the role of the grade one referee," he explained. "You have to be a role model for younger referees.
"You have to promote yourself in your local referees' association, you have to attend 70% of the training sessions and attend monthly meetings.
"I don't know if Charlie didn't get the games latterly because he didn't do that, but I don't think it is a case of sucking up to the right people.
"It is a case of working hard and listening to good advice and I'm sure Charlie did that.
"I get on well with Charlie, he was fourth official to me at a recent game and I sensed that he was unhappy then.
"But Charlie is an excellent referee, he devoted a lot of time to refereeing and should be commended for that.
"It is unfortunate because the game needs guys like him, he had so much to offer and now that is lost."