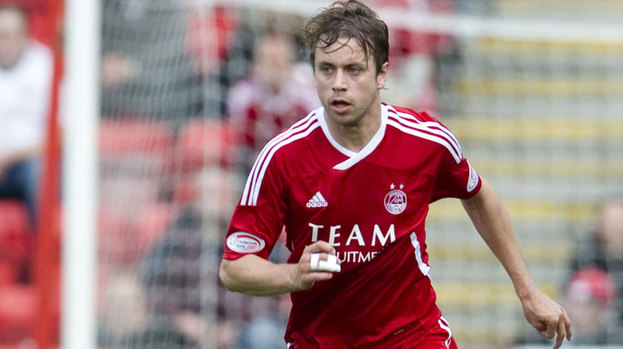 Aberdeen midfielder Kari Arnason hopes to secure a compromise deal that allows him to stay at Pittodrie.
The Iceland international rejected a new contract offer earlier in the year with his demands reported to have been £5,000 a week.
But the 29-year-old is still willing to negotiate a deal after impressing in his first season.
"The club is really good I've enjoyed it a lot at Aberdeen," he told RedTV.
"The boys are terrific, the gaffer has done really well bringing this group of players together, there's not a bad word I could say about any of the players.
"I want to stay at the club and I am hoping that we can come to terms and find some middle ground, but it is up to the club.
"I haven't heard much lately, I'm just waiting to see what happens."
Aberdeen welcome St Mirren on Saturday in the final Clydesdale Bank Premier League game of the season looking to move up from ninth place in the table.
The Dons have won only once in their last five league games and Arnason concedes fatigue has played a part.
"All the boys are tired," he added.
"You look at the players and some of them are like deflated balloons especially players who have played most of the games.
"You get knocks here and there as well which doesn't help."
Asked what he thought of his own performance this season he said: "For two thirds of the season I started quite well and lived up to expectations.
"The last third has been not good enough and the team haven't been performing as well."
Lee Mair will miss out for St Mirren due to a calf injury while fellow defender David Barron is available again after a knee problem.
Steven Thompson is one booking away from missing the first game of next season but manager Danny Lennon has signalled he will play his strongest team.
Speaking ahead of the clash, Saints captain Jim Goodwin has urged Jeroen Tesselaar and Nigel Hasselbaink to show some loyalty to the club and sign new contracts.
Lennon is waiting on an answer from the Dutch pair's agent after offering them extensions.
Goodwin turned down a more lucrative offer from Hibernian in January to extend his Saints contract, and left-back Tesselaar and forward Hasselbaink are the only unsecured players in Lennon's first-team pool.
"They are taking their time a wee bit," Goodwin said. "I hope they get it sorted soon.
"They are two important players for us and I just hope they do the right thing.
"Obviously they better sort out their own finances and what have you but I think the club have been good to them since they came here.
"I think the manager and Tommy Craig have improved them as players and I hope they do like I did in January and reward the manager and Tommy with a bit of loyalty.
"Hopefully they will sign on for another year or two at least."
Lennon also believes the pair have benefited from their first season at the Paisley club, who could finish seventh in the table if they win at Aberdeen.
"We made a written offer to the agent in the early part of the week and we're waiting on correspondence," Lennon said.
"I'll certainly be picking up dialogue with the players.
"We have put the offer in and all we are looking now is confirmation whether it's yes or no."
Aberdeen squad: Langfield, Considine, Reynolds, Anderson, Clark, McManus, Rae, Jack, Fyvie, Vernon, Masson, Magennis, Megginson, Mackie, Smith, Arnason, Rogers, McArdle, Fraser, Brown, Fallon, Osbourne.
St Mirren squad: Samson, Van Zanten, McAusland, Tesselaar, Goodwin, McGregor, McLean, McGowan, Carey, Imrie, Hasselbaink, Thomson, Thompson, Smith, Murray, Teale, Reilly, Mooy, Barron.
People who read this story also read