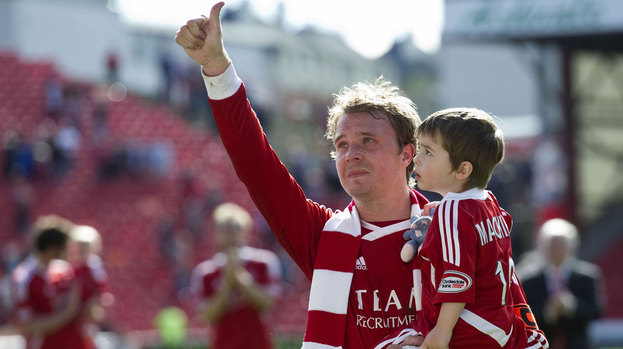 Aberdeen striker Darren Mackie has thanked the club's fans for their support during his 14-year spell with the club.
The forward made his final appearance for his boyhood club during the 0-0 draw with St Mirren.
The 30-year-old shed tears after the final whistle and said: "It would have been nice to sign off with a goal, but it wasn't to be. It's just the way football goes, and I've missed easier chances in my time here. It was a great game.
Both sides were going for it, and there were chances at either end.
"The fans were amazing. They're unbelievable. They're right behind you when things are going well, and the boys need to start doing it on the park to get them back in the huge numbers I'm sure would come if they were winning every week. Thanks to them for the reception they gave me today.
"It's hard to say what I'll miss most. I've loved every minute of it. It's a great bunch of boys, and the staff here are terrific but life goes on. I'll need to sort myself out, and wish Aberdeen all the best of luck for the future."
Mackie will now look to find a new club with Dundee mentioned as a possible destination.
However he says he's in now rush to sign for a new team right now.
He added: "My wife is heavily pregnant, she's got three weeks to go. That's the first thing in my head, so once that's out the way we'll discuss our plans for the future.
"It's great to know there's interest there. I don't know if it's just paper talk, but it's nice to hear whispers that there are teams interested."
Related articles
People who read this story also read