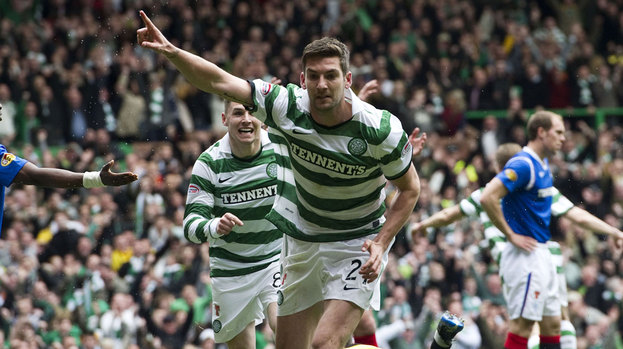 From vaguely rated, uncategorised young defender to one of the best players in the land, Charlie Mulgrew's exodus and subsequent triumphant return is reminiscent of that old literary cliché, "the hero's journey".
When he left back in 2006, Gordon Strachan's new Celtic defence was under intense scrutiny following the Artmedia Bratislava debacle and a ridiculous 4-4 draw with Motherwell. There was no room for testing youngsters, no more room for error. With Mark Wilson usurping Mo Camara as first-choice left-back, Mulgrew went on a four year learning odyssey, taking in four different clubs.
Spending much of his first "return" season as understudy to the scintillating Emilio Izaguirre, Mulgrew had to be shifted around before finding a place in the starting lineup. It wasn't until a defensive crisis in January 2011 that he finally found a consistent spot in the starting 11. With Daniel Majstorovic and Thomas Rogne the only fit and recognised centre-backs at the club, it was fate that one had to be injured against Aberdeen. Mulgrew slotted in seamlessly for the remainder of the season.
It was a chance to finally put to bed the criticism levelled by Gordon Strachan, Jimmy Calderwood and Mark McGhee (amongst others) that Mulgrew was unreliable and unassured in defence. With that charge dispelled, one danger remained – the curse of being "jack of all trades, master of none".
Nevertheless, at the beginning of this season Mulgrew returned as deputy for Izaguirre at left-back – such a handy utility player so tempting to keep on the bench. Yet an injury crisis again defined Mulgrew's contribution. First, Izaguirre broke his ankle in only the second match of the campaign, and then injuries hexed the seasons of Glen Loovens, Thomas Rogne, Kelvin Wilson, and latterly, Daniel Majstorovic.
Aside from rare suspensions and a hamstring injury in the Autumn, when Mulgrew was available he would play (a whopping 42 appearances) – predominantly at centre-back (21 times), frequently at left-back (18) and also on the odd occasion in midfield. What is guaranteed is professionalism and steely effort – traits that have endeared him to the support.
Wherever he played, his strengths over more limited defenders have been obvious. At left-back he can make use of being the best crosser in the team. In the centre he is calm and composed, able to take responsibility for starting moves, while at the same time has finally embraced his defensive qualities. In the absence of Izaguirre, he has been at the same time, somehow, Celtic's best left-back and best centre-back.
On paper, this isn't the case. Izaguirre is truly a special left-back, and the fact remains that Mulgrew is a "converted" centre-back, as opposed to natural. This suggests the threat of another condemnation to backup duty; but perhaps Lennon has devised a solution.
His new 3-5-2 system, trialled towards the end of the season is practically made for Mulgrew. The outside centre-backs have a dual duty – out of possession they tuck in as conventional centre-backs, but in possession they essentially take up full-back responsibility. It's clear that Lennon has a player who provides the best of both worlds.
When Mulgrew left in 2006, his defending was considered so bad as to be laughable. But the spurned youngster has diligently fought his way back - returning older and wiser. He's earned a song from the support, he's earned the vice-captaincy, he's earned an SPL winners medal and his performances have been so consistently excellent that he's almost forced Lennon into making room in the side. The accolades don't come higher.
Michael Gunn is the brains behind TicTacTic. You can follow him on Twitter
More About Scottish Player of the Year
Related articles
People who read this story also read