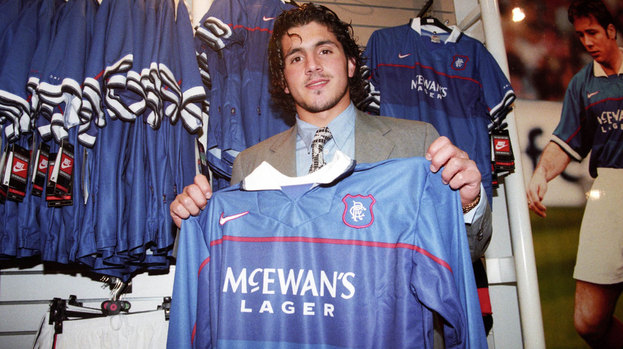 The forthcoming Euro 2012 tournament gives us another opportunity to talk to Gazza about his favourite career memories.
Excluding a trip to the dentist's chair, singing Fog on the Tyne has to feature high on that list.
Neil Lennon wants to show his appreciation for Newcastle by taking two of their players to Scotland this summer.
One man who prefers the squinty bridge to the Tyne Bridge is Joe Jordan's part-time sparring partner Rino Gattuso.
The Italian midfielder's agent may have grappled with the Scotland legend but he is getting all emotional at the prospect of a return to Rangers as his agent heads to Glasgow for talks.
Sad news reaches Football Talk Towers from Spain as the death of prospective Villareal coach Manolo Preciado was confirmed.
Elsewhere sees more high jinks from Nigel de Jong and an eye-catching sports report from Poland.
TOP STORIES
Former Rangers star Rino Gattuso's agent jets in for talks aimed at sealing Italian's return to Ibrox
Despite Rangers still being unable to sign players, the Italian's representative is keen to speak to the Ibrox side. (Daily Record)
Fraser Forster keen to sign for Celtic
The player's agent hopes to set up a meeting with chief executive Peter Lawwell to finalise the deal. (The Scottish Sun)
Celtic set to launch another bid for striker Leon Best
Neil Lennon could revive a move for the Newcastle attacker (Daily Record)
MUST READ
Spanish football in shock as new Villarreal boss dies of heart attack on day before unveiling
New Villareal coach Manolo Preciado has passed away after suffering a heart attack (Daily Mail)
Dennis Signy, the journalist with the best contacts book in football
Roy Greenslade pays tribute to the legendary freelance football writer (The Guardian)
Don't expect to make much money if you follow Mr Hansen's tips (101greatgoals.com)
MUST WATCH
Obviously we recommend you stick to STV for your Euro 2012 news, but if you're looking for an alternative…
Football Talk regular Nigel de Jong stars again at 1.05 in this video, fouling a child in a charity match
More About Football Talk
People who read this story also read