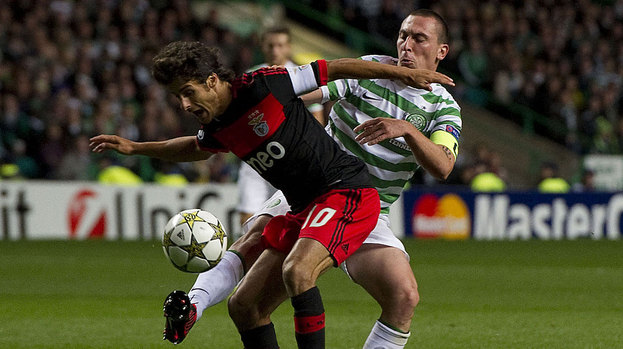 Scott Brown emphasised the positives of a point gained as Celtic played out a 0-0 draw with Benfica in their opening Champions League group match.
The midfielder drove on an experienced home side against their Portuguese opposition, but his team-mates were unable to make the breakthrough to record a win to start their campaign.
Celtic go to Moscow to face Spartak next and Brown believes the first result will stand them in good stead for their future games.
"I think we played really well overall," said Brown. "I think it's a point gained.
"The lads who hadn't played in the Champions League before were excellent.
"We were unlucky that we didn't create as many chances as we would like but over the 90 minutes I think we were the better team.
"We've showed what we can do away from home already in Europe this season.
"We're managing to keep clean sheets which we've rarely done in the past."
Manager Neil Lennon praised the impact of Brown, who is playing with a hip injury and may have to be rested for the SPL match with Dundee this weekend.
"He gives the team real drive and he is improving all the time," said the boss.
"There were moments in the second half when he saw the danger and covered the ground, made tremendous tackles and nipped counter-attacks in the bud very quickly.
"He has matured a lot and has blossomed into the captain that he is. He has played at this level before, there were ten who haven't, and he sets an example.
"He finished the game tremendously strong which was surprising and we will see how he is over the next couple of days."
Related articles
People who read this story also read