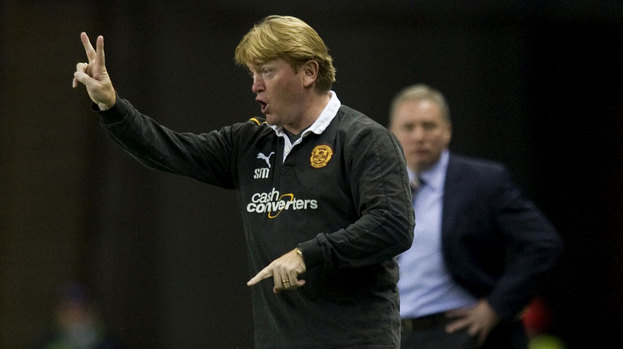 We're going to keep this short.
FIFA 13 is out today. So Football Talk is going to close its eyes, count down in its head until 5pm and then, when the boss isn't looking, run like Chris Humphrey to the nearest generic entertainment store.
Until then, here is a bevvy of great stuff to keep you informed, amused and horrified.
The top stories in Scotland
Celtic in talks with five players over extending their contracts
Neil Lennon is keen to tie down his stars on new deals.
Rangers lose Francisco Sandaza for rest of the year with broken cheekbone
The Spanish striker faces a lengthy spell on the sidelines after a clash in his side's 2-0 win over Motherwell.
John McGlynn: 'Clubs have a duty and responsibility to challenge Celtic'
The Hearts boss says clubs must put pressure on the champions while they are concentrating on Champions League football.
Kenny Shiels believes Hearts are under pressure to finish second
Unaware that John McGlynn was already putting pressure on himself (above), the Kilmarnock manager picked the ripest fruit from the mind games tree.
Neil Lennon: I would be happy to face Rangers in the League Cup
The Celtic boss says his team fear nobody and he will be content with any draw. (Daily Express)
Moanopoly for Dundee fans after price snub
Dundee is set to be split along tribal lines after a special Tayside version of the board game put a massive £20 difference in the valuation of Tannadice over Dens Park, (Scottish Sun)
Faure on Rangers: The crowds here are what convinced me to sign
The former Lyon defender has spoken to The Herald about his first impressions of Scottish football.
McGlynn blasts blazers for not being quick on the draw
The Tynecastle manager says an opportunity was missed to sell the game. (The Scotsman)
Your daily update on football-related sculpture
Abdel Abdessemed has captured Zidane's World Cup moment of madness as an "ode to defeat". (Yahoo Sports)
Spartak Moscow ask fans to design a gladiator statue (In Russian, use Google translate)
Spartak, named after Spartacus, plan to erect a statue of a gladiator outside their stadium and are inviting designs from fans. Football Talk has already sketched a statue of the Gladiators with the giant cotton buds so no copying. Via @dommmorris on Twitter.
The best of the blogs and opinion
Charlie Adam: Too lovely jubbly for Liverpool
Michael Cox thinks the Scotland star is "either the key player or doesn't fit in the side". A terrific analysis of the midfielder's strengths and weaknesses. (ESPN)
You never actually own a football club
A second article from ESPN but this column by Gabriel Marcotti on ownership and responsibility has Football Talk nodding and saying ""mm hmm"" repeatedly.
You love Eintracht Frankfurt, you just don't know it yet
Armin Veh has assembled a side with talent, energy and attitude, writes Ross Dunbar. (A Football Report)
John Terry will find the stigma of racism sticks like a tick to a dog
Daniel Taylor considers the lasting effect of the FA's verdict. (The Guardian)
Too many tweets make an easy FT section
Look what's arrived from Scotland ! Yesss twitter.com/ScottAllan_/st…

— Scott Allan (@ScottAllan_) September 27, 2012
And this haha ! twitter.com/ScottAllan_/st…

— Scott Allan (@ScottAllan_) September 27, 2012
Me and @stevenmcgarry enjoying his birthday cake while @scottjamieson and his fat club are hard at work losing kilos twitter.com/billy_mehmet/s…

— billy mehmet (@billy_mehmet) September 28, 2012
@1eth7 alright big guy hopefully u leave the gloves on the bus on Saturday wee bit more the same as the last time u was Edinburgh ;-)

— Jamie Hamill (@hamster_86) September 27, 2012
The video you have to see
Romain Alessandri scored Rennes' first goal against Nancy in their 3-2 cup win on Tuesday. It's a wee bit special...
And a picture you probably don't have to see
Not for the faint-hearted. Possibly the worst football tattoo ever
More About Football Talk
People who read this story also read