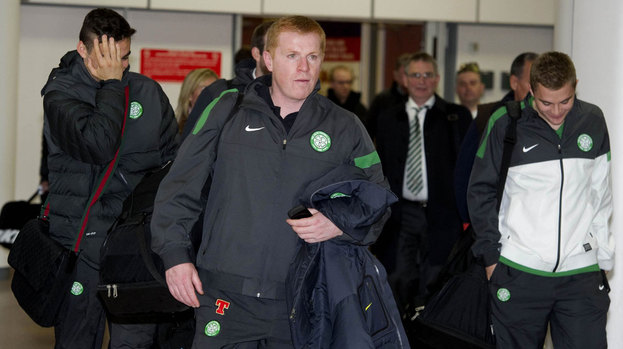 There's a method to getting the big stories. For some, it's sneaking up on unsuspecting interviewees on a golf course.
Football Talk digs that. Bill Murray doesn't, by the way.
Following on from the runaway success of #mockleaguecupdraw, the SFL have decided to hold the draw for the quarter finals of the Scottish Communities League Cup on Thursday. Stick with us for live coverage.
There's that, and previously unseen footage of Emile Heskey as a child star on the Rod Hull and Emu show. Oh yes.
Please accept our apologies for today's headline. Our bosses read this story on the Bleacher Report's success with SEO yesterday and now all our headlines are pre-written.
Spare a thought for the poor sod who has to write a story with the headline: "Five reasons why Kenny Miller should start against Wales and Belgium".
Here's today's top headlines from the world of Scottish football.
Dermot Desmond: Celtic and Neil Lennon found turning point in Moscow
Celtic's majority shareholder says Lennon is getting better performances from side and team will be improved.
'Rangers will return to the top level of Scottish football'
More from Desmond as he says he expects Rangers, 'a fantastic club with a great history', will bounce back.
Celtic's Forster to get England call
Roy Hodgson will select the Celtic goalkeeper in his England squad for the World Cup qualifying games against San Marino and Poland. (ESPN)
Steven Fletcher could have been an England star
The returning Scotland striker came frighteningly close to slipping through the net ten years ago. (Scottish Sun)
St Johnstone boss Steve Lomas named top SPL manager for September
Unbeaten Saints run helps the Northern Irish boss to scoop the monthly award.
Celtic's Champions League win is proof SPL is no backwater league
Neil Lennon is also keen to tie Gary Hooper down on a new deal after his role in the win over Spartak Moscow. (Daily Record)
Alan Maybury claims he 'won the ball' in challenge on Ryan Fraser
Hibs defender says only momentum carried him through the yellow card tackle.
Don Cowie: I wish I could be a part of Highland derby
The midfielder is eyeing up the English Premier League — but tomorrow night he'll wish he was back in the Highlands. (Scottish Sun)
Now you're up to speed, indulge yourself in something from our library of in-depth articles from around the web.
Lippi question time airs two sides to Lennon's make-up
Hugh Macdonald reflects on Neil Lennon's audience with Marcello Lippi and the Celtic's manager's thirst for information, as well as closure. (Herald Scotland)
Feast your eyes on some of this. And don't forget to share anything you like on this page with your friends.
Emile Heskey, that's Emile not Emily, on the Rod Hull and Emu show as a kid.
More About Football Talk
Related articles