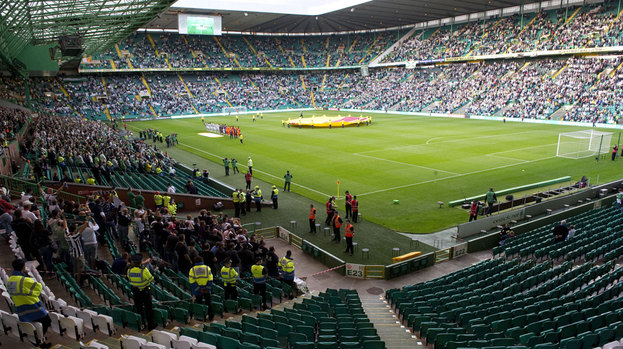 Celtic have been cleared by a Scottish FA tribunal over charges that they failed to prevent an offensive banner being displayed at their stadium.
A section of the support had unfurled a banner during a pre-season friendly against Norwich City which led to the club facing four charges from the governing body.
A disciplinary tribunal met on Thursday and found the club not guilty on all counts.
The banner in question depicted a gunman shooting a Rangers supporting zombie which has risen from the ground next to a gravestone carrying the club's badge.
To the left, a reverse evolution process is shown, going in four stages from man to an ape which is sporting a Rangers scarf.
A Celtic spokesperson said: "Celtic Football Club opposes all forms of offensive behaviour and unacceptable conduct and our supporters are well aware of what is expected in this regard."
"We are surprised and disappointed that after providing a significant volume of evidence and information about our safety procedures, that today's hearing was actually necessary.
"In addition to dropping several charges in advance of the hearing, the SFA's Judicial Panel also accepted that Celtic had not breached any SFA rules.
"We believe that Celtic Park's safety and security procedures are of the highest standard, something which was successfully demonstrated to the Judicial Panel by the club and by several witnesses, including independent industry experts."
Scottish FA rules require all clubs to take responsibility for the conduct of fans, listing a range of sanctions for any club which cannot prove that it had taken all reasonable precautions to ensure good behaviour.
Related articles