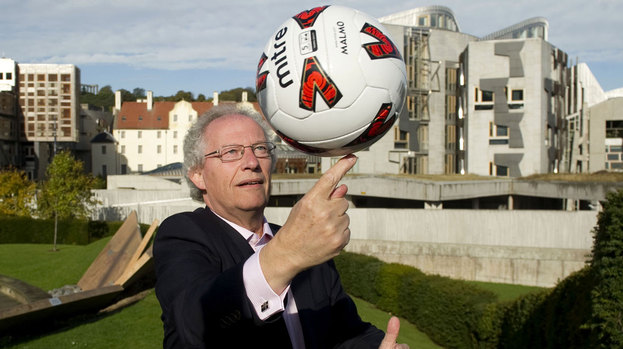 Sometimes, in the quiet moments, Football Talk reflects upon where it all went wrong.
Years have been spent trying to work out why the tilt at a professional career never worked out. Why it was chased away from Hibs' training ground by a shirtless John Hughes. Why the linesman collapsed in a fit of laughter when it turned in that unavoidable own goal on trial at Elgin City.
Then the Scottish FA hired a top-notch performance director who, a year and a bit into the job, suddenly made it all clear. It was the Buckfast. It was the fried food. Nothing to do with having two left feet.
Nothing to do with the fact this tortured blog's football upbringing was on a grass pitch which was sold for housing, then an ash pitch covered in broken glass, then the concrete patch at the end of the block until Mrs Farrell would come out of the house in her dressing gown and waving a broom.
Thing is, there's a crop who dodged the booze and the burgers. They are playing in the self-titled best league in the world. They are the current Scottish national team. So what is their excuse?
More power to the Playstation generation. And more power to Mr Wotte in bringing through the next crop, without the excuses.
Here are the stories you need to read today
Mark Wotte urges Scotland fans to take reality check on qualification hopes
The Scottish FA performance director says only so much can be achieved with the current squad.
And Wotte says tonic wine and burgers are to blame for lack of talent
It's not Craig Levein's fault Scotland aren't progressing, the culture has to change.
Neil Lennon remains confident on new Celtic deal for Gary Hooper
Celtic's manager believes he can tie his star striker down on a new contract despite interest from elsewhere.
Dundee United get 'back to basics' after run of five games without a win
Peter Houston's side take on Aberdeen this weekend having not won since August 19.
Terry Butcher: 'Dundee's problems echo Inverness struggles of last season'
Caley Thistle boss believes late SPL call is hindering Barry Smith's side.
Arsenal kid Philip Roberts in talks over extending Inverness stay
The 18-year-old forward has made an immediate impact with Terry Butcher's side.
Aberdeen set to take 4000 fans to Dundee United as Craig Brown vows to do them proud
Dons boss is keen to make it three away wins on the bounce in the SPL for the first time since March 2007. (Daily Record)
Barca stars are wary of Celts threat
Javier Mascherano admits Barcelona now rate on-song Celtic as their biggest Champions League group rivals. (Scottish Sun)
Reading jackets on, slippers at the ready, here's what we think you should be indulging in today.
Who earns the big bucks in MLS? And why the players want us to know
As the salaries of every MLS player are revealed, with Thierry Henry the top earner, the players' union argues that it pays to be open on pay. (The Guardian)
Reading, Manchester United and the Indian Messi/Ronaldo
For football aficionados in India, watching a game involving their heroes live is a huge accomplishment. (In Bed With Maradona)
Price of Football survey: Costs will drive fans away warns FSF chief as ticket charges rise five per cent above inflation
The cost of watching live football in Britain is rising sharply and could drive young fans away from the game, according to Football Supporters' Federation chairman Malcolm Clarke. (Scotsman)
Price of Football survey: Hibs explain refusal to take part
The Easter Road side were the only side in Scotland not to take part in the BBC survey. (Scotsman)
Tsanko Tsvetanov gets sacked by FC Etar 1924. For the third time. This season.
The former Aberdeen defender has been relieved of his duties as boss of the Bulgarian side for the third time in three months.
The more you do something, the better you get at it.
Practice makes perfect. Here's five minutes of Alessandro del Piero hitting free-kicks over and over.
More About Football Talk
People who read this story also read