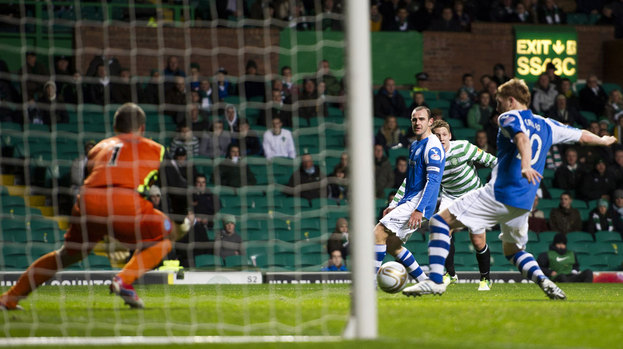 Kris Commons wasn't going to pass up the chance of being credited with a hat-trick in Celtic's 5-0 League Cup win over St Johnstone.
The forward took home the match ball from the quarter final tie, although there were questions over whether his opening goal should have been marked down as an own goal by Liam Craig.
Although sheepish when asked how he felt about being on target three times, the Scotland international was happy to lay claim to the opener but admitted he was unsure himself if he had been given it.
"I will take it. Have I got it?" asked the Celtic man. "I don't think the first one was going in for sure, it was more a cross than a shot.
"I'm sure the first one was on target, maybe not, I don't know.
"I was listening out to the announcer and I didn't hear my name so I thought they might have given it to someone else.
"It was a good move and if one of their defenders had not put it in, maybe one of our strikers would have got a two-yard tap-in.
"Certainly when I was taking the penalty I didn't think it was for the hat-trick, I was thinking it was for my second goal."
Commons laid on Gary Hooper to net Celtic's third shortly before half-time, with Charlie Mulgrew rounding off the scoring in the second half.
The former Derby County player is now on eight goals for the season from 17 appearances, ending a run of eight club games without a strike.
Related articles
People who read this story also read