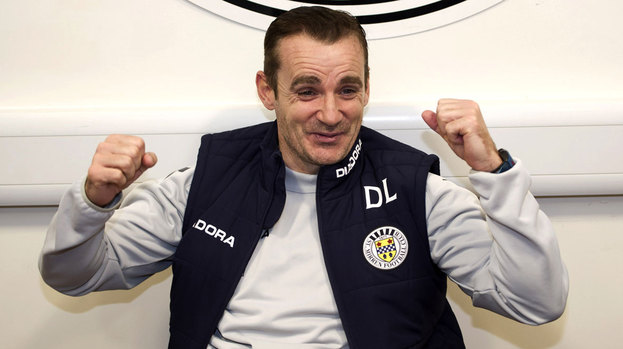 They seek them here, they seek them there, they seek them everywhere.
The seven-man Scottish FA board donned their invisibility cloaks on Thursday to discuss the future of Craig Levein. What did they decide? Well, we don't know, sadly.
Football Talk, thankfully, has a plan. There's an STV seven-a-side team taking part in a charity tournament tonight and we've made a bid to Craig to come and manage our team on a lucrative tax-free salary. The 6-0 formation employed won't win us the thing, but finishing above the BBC is the only target.
Talking of ludicrous sums, Neil Lennon's cunning plan of quoting £25m as the price tag for Victor Wanyama appears to have pricked the ears of Sir Alex Ferguson, who is reportedly set to make a cheeky low bid of £12m.
Here's a selection of the top stories in Scottish football today.
Craig Levein's future as Scotland boss in the balance as SFA board meets
No indication has been made on the outcome of talks between the seven members on Thursday.
Fergie plots £12m Victor swoop
Victor Wanyama could be subject of a January bid from Manchester United. (Scottish Sun)
Kenny Shiels labels Inverness as favourites against Kilmarnock
Rugby Park boss expects to mount rearguard action against league's top scorers.
Steve Lomas given suspended two-match ban for 'cheating' comments
The St Johnstone manager was angry with Richard Brittain's actions in a match with Ross County.
Steve Lomas is still learning on the job at St Johnstone
His first job in management with St Johnstone has seen everything possible thrown at him. (Scottish Sun)
Barry Smith asks Dundee fans to be patient as team works to turn corner
The Dundee manager has rued the fact that his side have not had the rub of the green in the SPL.
Danny Lennon demands greater consistency from St Mirren side
The manager says a lack of consistency has hindered his side in recent years.
SPL managers urge fans to turn out for teams after 'Armageddon' fails to materialise
League chiefs had suggested Scotland's top flight faced a bleak future after the demise of Rangers but the predicted implosion has never happened. (Daily Record)
SFA ignore latest Vladimir Romanov rant after Hearts chief claims referees take handouts from Old Firm
The Russian insists refs love Rangers and Celtic for fear of losing their jobs but John Fleming refused to give the comments any credence. (Daily Record)
Some further, more extensive reading for you to enjoy.
SFL to firm up league strategy
All 30 Scottish Football League clubs – including Rangers – will meet at Hampden in a fortnight's time to thrash out their strategy on league reconstruction. (Herald Scotland)
Adam Digby discusses the cavalier approach of Roma coach Zdenek Zeman and how he divides opinion in Italian football. (In Bed With Maradona).
Some Friday delights for you to watch.
Magee! Magee! Magee is on fire! LA Galaxy turn around a 0-1 scoreline against Vancouver Whitecaps soon after Kenny Miller takes to the pitch.
Goal!
GOAL!
More About Football Talk
People who read this story also read