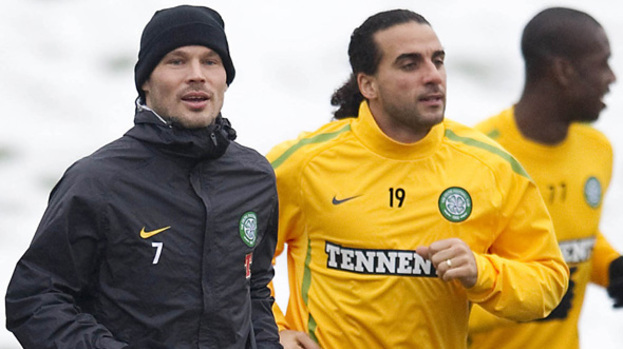 Toronto midfielder Dwayne De Rosario is training with Celtic, despite the MLS club insisting their player would not be allowed to go on trial with any other side.

The Canadian player is in the midst of a contract dispute with Toronto but is currently midway through a four year deal, meaning Nick Dasovic's club would have to give permission for De Rosario to train at Lennoxtown.

Despite claims by Toronto's interim general manager, Earl Cochrane, that the 32-year-old would not train at Celtic, the 55-times capped player is in Glasgow and, as manager Neil Lennon confirmed on Tuesday, will spend the week with the Hoops.

"He is in today," Lennon confirmed on Tuesday. "He's a similar player to Shaun Maloney, he likes to play off the left and come inside.

"He is a skilful, sharp and intelligent player. Again it's an opportunity for us to have a look and see what he can offer us, and he's here for a week."

Toronto GM Cochrane claimed on Monday evening that there was no chance of De Rosario heading to Scotland to train with Celtic, saying he fully expected the player to rejoin his team when they return to pre-season training in January.

"Dwayne is not going on trial with Celtic or any other club," Cochrane told MLSsoccer.com. "We have not received word from anyone and expect him to be with TFC when training camp opens next month.

"Dwayne is currently under contract with us and is a very important player for us moving forward."
De Rosario was involved in a public dispute with Toronto's owners during the 2010 season, as he tried to engineer talks over improved contract terms. A goal celebration, in which he signed an imaginary cheque in front of the directors' box at the club's BMO Field, didn't go down well but talks have opened between the player and the club.
Celtic have former Arsenal midfielder Freddie Ljungberg training with them this week, after the player left another MLS club – Chicago Fire – at the end of the season in November.
The 33-year-old Swede is available to play for any new team from January 1, putting him in contention for a surprise outing in the Old Firm derby a day later.
CONFUSION OVER DE ROSARIO TRIAL